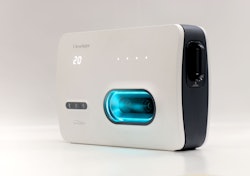 Clearlight Halo One Halotherapy generator is a therapeutic option for incorporating salt therapy into a wellness routine. The Halo One can be used in a Clearlight infrared sauna at home or office.
The device utilizes a liquid saline mixture of micronized salt particles created with the company's Vibrating Mesh technology, which are then dispersed into the air. The single-use HaloOne saline cartridge will last 20-25 minutes. The Halo One is the only halotherapy generator producing salt particles between 1-10 microns.
Halotherapy offers the best results when practiced regularly. People with chronic issues will benefit greatly from using the Halo One at least 3-4 times per week. Those who are looking to incorporate Salt Therapy into their regular wellness routine would benefit from a weekly session.
Conditions that halotherapy can aid in treatment include:
Asthma
Depression
Seasonal Affective Disorder (SAD)
Psoriasis
Allergies
Eczema
Acne
Rosacea
Dry Skin
Cystic Fibrosis
Rashes
Insomnia 
Sleep Apnea