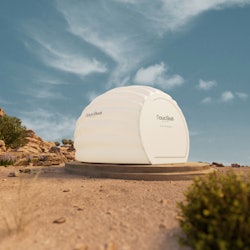 The Pure Air Bubble 2023 by Natura Bissé is a state-of-the-art facial treatment that rejuvenates the appearance of the skin and promotes overall well-being thanks to the new Pro-Youth Lifting Method by Natura Bissé. It is designed to be a traveling spa inspired by the warm Mediterranean breeze,
The 3 Pillars of the Treatment:
Pro-Youth Maneuvers: Exclusive massages targeting key points of the anatomy such as the vagus nerve or the temporomandibular joint promote physical and emotional well-being: they help reduce anxiety, release accumulated tensions and, at the same time, reveal a visibly smoother and more radiant face.
Conscious and Guided Breathing: An ancient practice used to reduce anxiety, promote a restful sleep and improve levels of concentration that, together with the pure air, contributes to improve the skin cells oxygenation, eliminate fight inflammaging and activate the body's antioxidant mechanisms.
State-of-the-Art Skin Care: High concentrations of innovative active ingredients will be at the service of the skin to prevent and treat the signs of aging in an exceptional way: expression lines, wrinkles and flaccidity. Supremely visible results are achieved, enhanced by the other two pillars of the method.
Main Benefits:
Reduces visible wrinkles and expression lines.
Redefines the facial oval.
Provides an immediate lifting effect.
Offers maximum luminosity and energy to the face.
Improves mood.
Promotes calmness and reduces anxiety.
Releases accumulated tensions.
Helps to reconnect with the present moment.