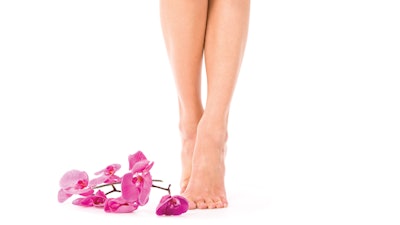 Spa pros bare all about their summer body hair removal services.
What areas are most popular for hair removal in the summer?
Trisha Williams, owner and master esthetician, Bare Bliss in Yakima, Washington: My most popular one is the Brazilian—for both men ($90) and women ($70). In fact, 22 percent of my business is actually male Brazilian services. In warmer weather, hair removal on the back and chest become much more popular with men because they're outside without a shirt on—working in the yard or going boating on the weekends—and they want to be clean and smooth to show off their six-packs! Similarly, women opt for underarm hair removal because they're wearing tank tops, sundresses and bikinis, and they don't want to bother shaving and dealing with unsightly bumps and irritation—and I don't blame them.
Agnes Gilson, owner and operator, The Wax Academy Wax Supply and Waxing With Aggy in Silver Spring, Maryland: During summer, men come in for chest, stomach and back hair removal. We've also seen a major uptick in Manzilians ($95) over the last year. For women, our Waxing with Aggy Brazilian ($65) is a regular go-to, as well as the basic bikini, underarms and legs. Of course, eyebrows are a yearlong service for everyone, no matter the season! A majority of the time, hair removal appointments are a combination of two or more services, which optimizes our time and helps set a steady pace for hair growth and timely maintenance appointments.
Ricki Criswell L.E., owner, Ricki Criswell Skin Care & Waxing Studio in Studio City, California: The most common area for men in the summer would be back and shoulder waxing.
What's your winning strategy for soothing clients during these services?
Summer Vasilas, cofounder and director of training and education, Waxing the City with multiple locations across the U.S.: After a warm greeting, the guest is invited into the treatment room, with a dedicated area for belongings, a phone charging station, cleansing wipes and privacy drapes for more intimate services like bikini waxes. We conduct a consultation to learn about past experiences, grooming habits and current needs or anxieties; this is the most important part of the service for building trust and rapport! Our products and protocols are all designed with client comfort in mind. We have a private line of pre- and post-wax serums that are an all-natural alternative to harsher ingrown hair treatments: The pre-wax serum numbs and cleanses the skin, and the post-wax serum soothes, heals, and prevents bumps and ingrown hairs. Plus, we use soft and hard wax depending upon the service, as each one works better on certain parts of the body: hard for sensitive areas such as the face, underarms and bikini; and soft for larger areas with finer hair like the arms and legs.
RELATED: The Wellness Benefits of Cryotherapy
Williams: I'm a talker. I love to talk about everything to anyone who will listen! So when clients come in for hair removal, I engage them in conversation. Whether it's a how's-the-weather type of chat with someone new, or something much deeper or more important with a regular, it keeps them preoccupied while I'm performing the service and we're done before they know it. Typically—although there have been one or two Brazilian-related freak- outs—clients tell me how little pain is associated with my treatments versus other places. I also use Nufree, which is gentle on skin because it only sticks to the hair, so guests are more easily distracted.
Criswell: Luckily we use almost pain-free hard wax, but I still keep the conversation going to distract them. Waxing is never completely painless, so I try to make the experience light and fun.
Gilson: My No. 1 strategy is to create a connection—to build rapport with clients from the beginning. Whether you are a first-timer or regular, the first step for us is to establish a comfortable environment. Finding common ground with these guests allows the appointment to flow organically. We set the tone by assessing their needs beyond the service itself. Our specialists are trained to ask questions so they can better understand the client's waxing experience: how their skin typically responds to waxing and post-wax treatments. It's critical to provide the most information as possible, which is why we send email notifications with best practices before and after services. We're the experts, and we always want to ensure our clients reap the full benefits of our expertise!
What retail sells best in conjunction with body hair removal?
Williams: I have boutique items in my little studio for sale, including lip scrubs, hair ties, collagen masks, goat's milk soap, makeup bags, jade rollers, Hempz lotion, satin pillowcases and, of course, Finipil soothing antiseptic cream—plus Baby Foot peels in the summer. I give out samples when available, because once clients try, they always buy! If someone mentions a concern—such as dry lips, the occasional ingrown hair or cracked heels—during their hair removal service, I jump at the chance to tell them about what I have that can help solve their problem.
Gilson: All of our retail essentially complements the wax used during the service. After each session, we discuss best practices and recommend products based on the client's past experiences, skin type and desired results. Popular offerings that pair well with our Lycon wax services include PFB Vanish, Nufree Finipil, SeBrazil Ouch Balm and Lycon Ingrown-X-It Solution.
RELATED: 6 Spa Treatments for Sensitive Skin
Vasilas: We start talking about products during the consult—learning about what guests have used, are using, like and dislike—and we use that information to recommend retail that will benefit them. It's important to remind clients that we've removed the unwanted hair and exposed the skin underneath, and we want to make sure it stays beautiful! Our top-selling body and bikini products typically tie into hair removal services, including exfoliating sugar scrubs and ingrown hair serums. We have several of the latter, including natural as well as more aggressive options, and ones with skin lightening agents. We carry Tend Skin, PFB Vanish Chromabright and our signature WTC Post Wax Serum. In addition, we discuss this information before leaving the treatment room. Clients don't want others in the waiting area to know if they have ingrown hairs and need to use an inhibitor two times a week—timing is key because guests shouldn't leave feeling embarrassed.
Criswell: I don't sell body products, but when I do facials I always discuss each client's skincare routine decide if we need to add something that might enhance what they're already doing.
Hair Removal Products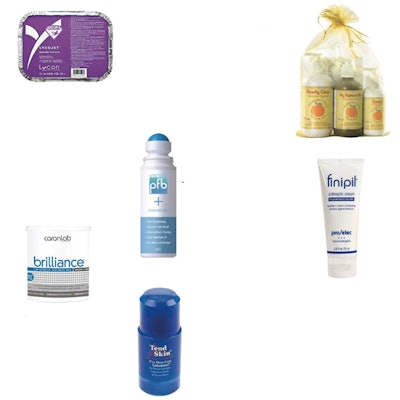 Pliable, low-temperature Lycon Lycojet Lavender Hot Wax is made of natural and synthetic resins and beeswax to leave skin soft and hair-free. The stripless wax can be reapplied up to six times without discomfort to remove hair as short as 1 mm. Added lavender and chamomile make the formula super soothing when waxing delicate areas.
The Relax & Wax Peach Treatment trio includes Peachy Clean, an exfoliating cleanser with mild lactic acid; RenewU, a botanical moisturizer; and My Name Is Mud, a therapeutic mask that draws ingrown hair to the surface for easy extraction. Ideal during professional services as well as for at-home upkeep.
PFB Vanish + Chromabright adds brightening dimethylmethoxy chromanyl palmitate to the brand's original formula. The roll-on gel gently exfoliates, moisturizes and lightens post- inflammatory hyperpigmentation after hair removal, minimizing the appearance of dark spots, redness and ingrown hairs.
Caronlab Australia Brilliance professional hard wax is formulated with hydrogenated resin and titanium dioxide, making it pliable without being brittle. Perfect for those with sensitive skin, the wax won't cause bruising or lifting, leaving clients smooth and hair-free.
Tend Skin features a signature isopropyl alcohol formula that soothes skin after hair removal, minimizing the appearance of ingrown hair, razor burn and redness. The liquid is suitable for use in men's and women's services, and is available in a refillable roll- on for easy application.
Designed for use after services as well as between visits, Nufree Finipil contains antiseptic benzethonium chloride, which protects follicles from infection and helps prevent sebaceous cysts. The noncomedogenic cream instantly cools and soothes the skin for less redness and swelling.
–by Laura Waldon
This story first appeared in the June issue of Dayspa magazine. To receive the magazine, click here to subscribe.
[Images: Getty Images; courtesy of manufacturers]