There's cold, and then there's really cold.
Subjecting the body to temperatures that plunge as low as -250 degrees Fahrenheit may not seem like something you want to suggest to clients—especially when they typically come to the spa for heated hydrotherapy and cozy relaxation—but the freezing temps of cryotherapy can provide a wealth of wellness benefits.
Cryotherapy originated thousands of years ago; records show that ancient Egyptians used the practice to treat injuries and inflammation. Cryosurgery (also, somewhat confusingly, referred to as cryotherapy) is used by doctors and dermatologists to treat a variety of conditions ranging from skin tags to psoriasis. It's a procedure that's been in existence for nearly a century, originating when liquid oxygen and liquid nitrogen came into use in the first half of the 1900s.
However, the cryotherapy that's been cropping up in wellness spaces—which can include whole body cryotherapy (WBC), as well as more localized treatments and facials—is a different breed. "For the body, cryotherapy can jumpstart the healing of damaged tissues, improve blood circulation, increase serotonin levels and decrease inflammation," says Holly Cutler, owner of FACE Skincare Medical Wellness in Bingham Farms, Michigan. Advocates of these frigid treatments say they're beneficial not only for boosting metabolism and immunity, but for calming the nervous system and easing pain.
RELATED: Spa Pros Reveal Their Business Goals for 2019
When it comes to facial treatments, Cutler notes that cryotherapy can increase radiance, diminish fine lines and wrinkles, lighten acne scars, and relieve symptoms of conditions like rosacea and eczema. According to CRYO Science CEO Amir Amirsadeghi, cryotherapy is actually an ideal complement to more aggressive facials. "It helps reduce that inflammation and improve collagen production during those treatments," he says.
At FACE Skincare, Cutler offers three cryo-based facials, including the CryoQuantum (60 min./$345). The protocol starts with resurfacing treatments and infusion therapy to exfoliate, hydrate and plump the skin. That's followed by the cryogenic treatment that, as Cutler explains, "uses a controlled beam
of vaporized liquid nitrogen to produce tightness in the skin and fill in wrinkles, as well as help improve skin tone, redness and inflammation." The service ends with a combination of oxygen infusion and light therapy aimed at boosting collagen production and nourishing the complexion.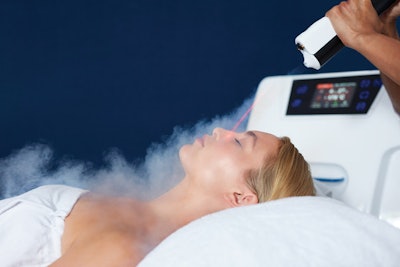 Cutler admits that clients typically react with confusion when they hear about the cryofacials that her spa offers. "They're definitely uncertain about what to expect and tend to assume they will be cold and unable to enjoy the overall experience," she explains. "But we tell them that it won't be uncomfortable because these facials are using cryotherapy as a localized treatment, rather than a whole body experience."
RELATED: 7 Tips for Boosting Your Spa's Retail Sales
Local cryotherapy can also be applied to other areas—for instance, to help ease joint pain related to injuries and arthritis, notes Vladimir Turovskiy, AP, physician of Oriental medicine at Carillon Miami Wellness Resort in Miami. "We implement cryotherapy routinely in our integrative approach to pain therapy and weight loss, as well as in cosmetic treatments," he says, adding that the post-treatment remarks he hears have been nothing short of glowing. "It's very common for clients to comment about how relaxed and rejuvenated they feel," he continues, noting that this is especially true after the Cryo- Face, Neck, Décolleté Lift (12 min./$72). The service involves a blast of cryogenically cold air—applied in circular motions over the eyes, forehead, neck and chest—to stimulate collagen production, reduce wrinkles and minimize eye puffiness. A spritz of collagen spray completes the procedure.
Of course, whole body services are growing in popularity and are what most people associate with cryotherapy. When a client steps into a specialized chamber for two to five minutes, they're instantly surrounded by freezing temperatures that slow their heart rate and lower their overall body temperature by upwards of 45 degrees. At US Cryotherapy in Studio City, California, the WBC treatment lasts three minutes ($50) and is designed to help clients reduce pain, inflammation and stress, as well as improve energy levels. "They leave feeling rejuvenated— and warmer than when they arrived," says US Cryotherapy co-owner Susan Sagheb. "The refreshed and reinvigorated feeling is worth the temporary and brief feeling of cold," she continues. "You can do anything for three minutes!"
–by Rachel Kossman
This story first appeared in the June issue of Dayspa magazine. To receive the magazine, click here to subscribe.
A rundown on the wellness trend that harnesses bone-chilling cold to improve clients' skin, bodies and overall health.