For the sixth installment of our Holiday Gift Guide, we cater to the Artist—the fun-loving, attention-seeking type who loves to get noticed during the holidays.
Fun loving and creative, the artist is a true one-off. Her attention-seeking ways are turbo charged during the holidays, so help her stand out from the crowd with anything that glitters, shines or sparkles.
"Your Present Required" from the China Glaze Happy HoliGlaze collection is loaded with glitter—perfect for creating eye-catching hands and feet.

Help her accessorize with Charmed Design's Silk Wrap Bracelet, which includes an angel wing, four-leaf clover and "believe" charm, plus a freshwater pearl.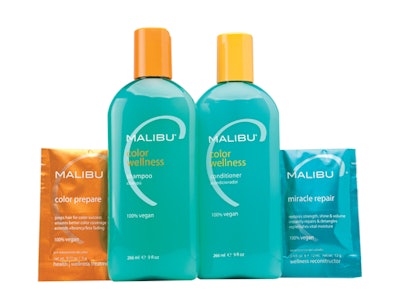 Keep her locks lively and lovely with Malibu C's Brilliant Color Collection, featuring Shampoo, Conditioner, Color Prepare and Miracle Repair.

These Holiday Lip Glosses by Colorlab Cosmetics are geared for glossing on the go.

Portable and pretty, these Bellápierre Cosmetics Shimmer 9-Stacks, in "Fabulous" and "Astrid," are sure to deliver.

Glow like a pro with this Glitter Body Art Luxe kit by G, The Body Art Professional.

Make heads turn with these hair bands by Jolie, featuring handmade silver rhinestone jewel appliqués.?

Part of Mirabella's Sparkle limited-edition holiday collection, Glitter Glaze eye shimmer is neutral yet noticeable, with layerable luster that's bound to draw admiring glances.

Auraline Beauty's Eye Define Kit contains five tools to make eyes pop at any party.

Mia Beauty's holiday-inspired glittery red, green and gold hair ties will pretty up any ponytail.

The Happy Holly Days kit from Brush Up with Barbara will have the camera-loving artist ready for her close-up at a moment's notice!

Help your lash-loving clients extend the life of their lashes with NovaLash's AfterCare Kit.

Ouidad's Joy to the Curl Kit delivers healthy and hydrated hair for the holidays.

RevitaLash's Wrapped in Beauty Holiday Kit contains a lash conditioner, volumizing primer, mascara and bonus scarf for maximum effect.

The fun-loving artist will always be dressed to impress (even during shower time!) with these lovely printed products from Mimi A La Mode!

Help clients bring out their inner artist with these layering perfume kits from Original Scent, featuring a top, middle, base and nude note.