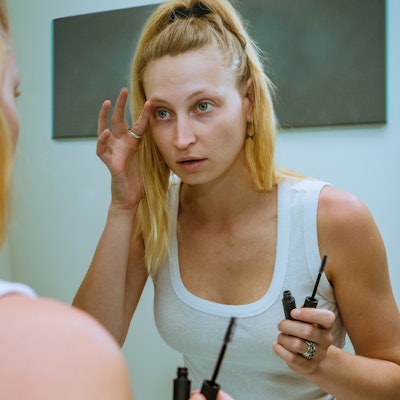 Lash whisperer, Sarah Maxwell provides her top five tips to nurture your lashes so you will emerge from this lockdown looking your very best.
You're stuck at home, unable to book an appointment with your favorite lash artist. Your last set is barely hanging on, or that lift you were so proud of is losing its shape. Thankfully, social distancing doesn't mean your lashes can't get the love they deserve.
Here are five things you can do at home to create a strong, healthy foundation for your favorite lash service. If you follow these tips, you'll come out of this isolation with longer, thicker, natural lashes that will make your lash artist proud, and probably result in the most dramatic full set you've even had.
1. Let Go of the Remnants
If you still have pesky extensions hanging on for dear life, it's time to let them go. Use a small amount of castor oil (or coconut oil) on a clean mascara wand. Roll from the top of the lash line through toward the tips to safely remove the extensions without professional help. Do this at night before bed, and the oil will loosen the adhesive so that you can remove the lashes when you wash your face in the morning.
2. Clean Your Lashes Every Day
A simple routine can be cathartic and help maintain structure in your day, and no lash care regimen is complete without a good daily cleaning. Find a soft foaming cleanser that you love and lather up your lashes each day. I prefer to do mine at night before bed, but you can do it whenever you have the time.
3. Use a Growth Serum with Natural Ingredients
Your lashes have a natural growth cycle that varies with each lash, so when some lashes are ending their cycle, others are just coming into their full length. Many lash growth serums use artificial or prescription ingredients that alter that cycle, resulting in gaps or inconsistencies in the lash line. Find a serum that uses natural plant extracts that have been clinically proven to stimulate new hair growth. Apply it to your lashes (and brows) every day, and you should start to see results within 2-3 weeks. By the time we're all released from lockdown, you could see as much as 75% more natural length.
4. Add Keratin
Eyelashes are composed of 95% keratin, which is a structural protein that strengthens the lash and protects the cells from damage and stress. If you wear extensions frequently, your lashes are carrying a lot of extra weight, and they're probably experiencing some damage after so many nights of glam. You'll want to use a lash conditioner that maximizes the amount of keratin your lashes can use to repair themselves. Even on healthy lashes, the additional keratin will supplement the natural polypeptide chains in your lashes, making them much stronger. You could see up to 45% thicker lashes, and your next set of extensions will feel light as a feather.
5. Use a Hydrating Mascara
We may not venturing out into the world as much, but we still want to look cute on those Zoom meetings and FaceTime calls, and mascara is a quick way to do that. Just be sure that your mascara isn't hurting the rest of your progress by drying out your lashes. If your lashes feel stiff and hard, exchange it for a smoother, lighter formula that contains a hydrating ingredient like Aloe Vera to give your growing follicles some extra TLC. The camera will love the slick, no- makeup look.
Sarah Maxwell specifically created the Livylash DAILY LASH RITUAL to support lash health in all these ways. While we're taking a break from the outside world, it's the perfect time to give your lashes the spa treatment they deserve. All of the products are non-toxic, and paraben free, and they were developed to be an effective and safe lash-growth system that neither irritates your eyes, nor exposes you to the potential side- effects of prescription products.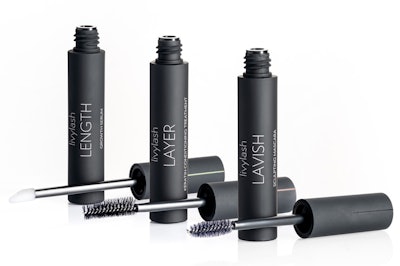 Livylash LENGTH Growth Serum – Step one of the Livylash DAILY LASH RITUAL. Nourish your lashes with natural plant extracts to stimulate new growth and encourage a longer, thicker, darker lash cycle. See results in as little as 2-3 weeks when used with Livylash LAYER keratin conditioning treatment. The exclusive doe-foot applicator allows for easy application across the entire lash line.
Livylash LAYER Keratin Conditioning Treatment – Step two of the Livylash DAILY LASH RITUAL. Fortify your cuticles and add a nourishing, hydrating layer, sealing in the essential vitamins and restoring your lashes to their youthful, natural state. The Keratin in Livylash LAYER mimics the natural polypeptide chains in your lashes, bonding to the rough edges of individual lashes, covering the cuticle, repairing any damage, and promoting strength.
Livylash LAVISH Sculpting Mascara – Step three of the Livylash DAILY LASH RITUAL. Sculpt, refine, and separate your healthy lashes with this smooth, lightweight mascara. Featuring Sarah's precision mascara wand, this flexible, clump-free formula allows for a detailed application that will enhance your lashes all day long.
Livylash LAUNDER Lid and Lash Cleanser – Not included in the DAILY LASH RITUAL set, but available as part of the Livylash line. This gentle foaming cleanser is safe on lash lifts and lash extensions. Its formulated with chamomile and witch hazel to effectively remove eye makeup while maintaining your skin's natural pH balance. Leaves your lashes SQUEAKY CLEAN.
To try Livylash for yourself, use code: EYELASH20 at checkout for 20% off your order.
Also, protect your lashes with LashSavers. LashSavers is the 'Elite Sleep Mask', extending the life of your lash investment.