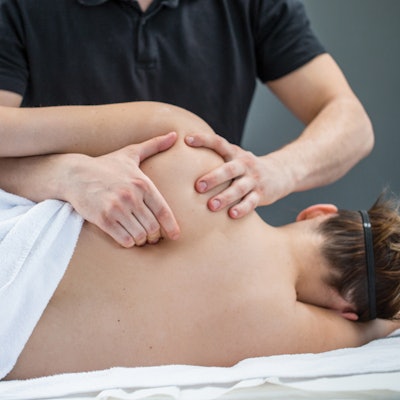 Hyperice, a global recovery and movement enhancement technology company, announces We Care, a wellness initiative developed to increase the health and wellness for massage therapists worldwide. Hyperice, in partnership with the industry's massage and spa leaders, will be working together to improve therapist retention, productivity, service consistency, career longevity, and overall wellness in the workspace.
The company believes that through technology-based wellness solutions and education, therapists can increase their career longevity by over 50%. As part of this global initiative, over the next three years, Hyperice and partners will be activating over 5000 therapist care wellness rooms throughout the world. The company plans to spend over $1,000,000 on the "We Care" initiative over this time period, which also includes therapist scholarships, specifically focused on health and wellness.
"I applaud the Hyperice team for launching this initiative. Being a massage therapist is challenging and physically demanding work," said Joe Magnacca, president & CEO of Massage Envy Franchising. "We are proud to partner with Hyperice on this visionary initiative to help therapists maintain their physical wellbeing and career longevity."
RELATED: How To Encourage Workplace Wellness
To further advance the We Care initiative, an Advisory Council has been formed, consisting of the best and most forward-thinking leaders in the spa and wellness industry. The goal is to create a 360-degree wellness platform to solve for therapist burnout, recruitment and retention. The members, consisting of Marriott, Hilton, Hyatt, Massage Envy and Equinox, will host 10 annual Therapist Appreciation events around the world, which will curate a selection of speakers, self-care workshops, leadership training, and complementary wellness offerings.
According to the
American Massage Therapy Association
(AMTA), more than half of massage therapists report having aches and pains in their shoulders, neck and back. This type of strain and discomfort can lead to shortened careers, lack of productivity, as well as long-term ailments and injuries.
RELATED: Spa Pros Reveal Their Eco-Friendly Spa Strategies
"The wellbeing of our massage therapists is essential to the quality of care they are able to provide to our guests," said Jessica Shea, Senior Director of Spa & Fitness Operations for Hilton Hotels and Resorts. "However, like many of us, massage therapists don't always have the time or the tools to focus on their own self-care, which can lead to physical and mental burnout. Through greater access to self-care opportunities, mentorship and education, the We Care initiative puts a spotlight on some of these challenges, and will be instrumental in strengthening the core of the spa industry – our extraordinary massage therapists."
Hyperice, well-known for developing industry leading, performance technology devices for professional athletes and fitness enthusiasts, believes We Care can enhance the customer experience by providing benefits for massage therapists. This unique offering is designed to tack on to existing massage and spa self-care programs, making implementation of We Care seamless and swift. Hyperice's latest innovation, the Hypervolt, a percussion massage device, is currently being used in over 1500 spas and massage locations nationwide.
"This therapist-care initiative is incredibly meaningful for both the therapist and spa," said Jim Huether, CEO of Hyperice. "Through technology and education, therapists can improve their specialization and enhance their own personal health and wellness, all while extending their careers. Additionally, spa and massage organizations can increase massage therapist workplace satisfaction, productivity and service consistency, leaving customers happier and more fulfilled. We believe that this industry-wide collaboration will significantly improve the state of therapist- care, improve workplace wellness, and advance career longevity, productivity and health."
About Hyperice: HYPERICE is an Inc. 500 global recovery and movement enhancement technology company, founded by Anthony Katz, specializing in portable high-performance sports medicine and orthopedic devices that provide preventative treatment, accelerate injury recovery, and enhance muscle and joint performance. HYPERICE's groundbreaking technology is setting the standard and is being used by the world's most elite athletes in professional and collegiate training rooms and in rehabilitation facilities globally.