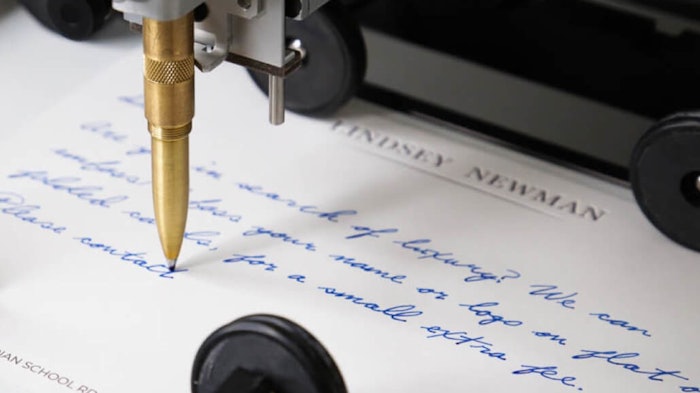 Courtesy of Handwrytten
Handwritten notes are a great way to display sentiment and maintain a connection to your customer base. Unfortunately, they can take a lot of time and energy to complete—especially if the spa or salon is busy. 
Luckily, companies are emerging to help businesses with just this issue. For example, Handwrytten, a Phoenix-based technology firm, uses robots to do the writing at scale. The company reports that the "handwritten" notes can even achieve greater open rates, response rates and ROI than printed or email messages.
Handwrytten offers 23 handwriting styles to choose from, and users can also upload their own handwriting and signature for a truly personalized style. Contact lists can be uploaded to send hundreds of notes at once. 
"People understand the power of the personal note, but nobody has the time to sit down and actually pick up a pen and write one. This is why we built a platform to automate the process from end to end," said David Wachs, founder and CEO of Handwrytten. "By leveraging cutting edge robotic technology, we are able to automate what is seemingly impossible to automate. These notes have been proven to drive incredible and lasting results for our clients."