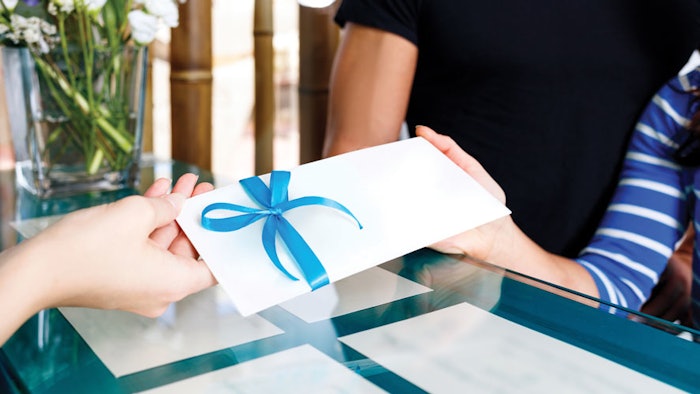 "Be remarkable or invisible. Make a choice." These wise words are from the incredible marketer and author Seth Godin. They're a reminder that the world has plenty of mediocrity, and the only way to stand out to clients is by rolling out what I call "The Purple Carpet Experience." As a business coach, I'm passionate about teaching this strategy to spas; it's all about creating an unforgettable journey for your guests and leaving them excited to come back again to the point that your price becomes irrelevant!
In our industry, loyal clients are key to long-term financial success and sustainability. The important thing to remember is that when you're creating loyalty promotions or programs, you must find the balance between enticing clients to spend more and giving away your profits. When you undercut prices, you erode your bottom line and your professional integrity. My philosophy is that discounts not only impact your finances, but they send the wrong message by training clients to expect them.
Instead, I prefer simple incentives that can be offered to spa-goers, like gifting an upgrade or product. There are many ways to make this happen. Build alliances with your vendors, who will support you with ideas and promotions, and may even provide you with free products and marketing materials to use as seasonal prizes or client incentives. Another useful way to create and track promotions is via your booking system or spa software. Knowing your numbers and client habits will help you better create incentives they will want. Birthday programs are also a great idea, as long as you don't give away too much.
Loyalty programs can be points based, tier based or subscription/membership based. Many booking systems nowadays have some type of rewards system built-in, but you must make sure that it works for your business and that you don't end up discounting too much. Programs can be based on a monthly fee where the client gets XYZ, or an annual fee where they might get a recurring discount on certain services.
When your guests experience that "wow" factor from start to finish—the first time—it leaves a lasting impression and keeps them coming back. These are my top tips for creating your own Purple Carpet Experience for your customers.
1. Reward new clients.
Offer a client incentive where, instead of a discount, you gift new guests a free add-on service, for example, give them an eye or lip treatment with any facial they've booked. This is a win-win: You get paid full price for the main service, and you're inviting them to try something new that will give them great results. The product cost and time spent are both low, and if the client loves the experience, they'll consider booking it as an add-on next time.
2. Refer a friend.
This is a fantastic way to get new clients in the door. Offer existing customers a gift, like a free add-on or product, if their friend comes in for a treatment. The conversation of dollars versus percentage comes up often in this case, and I believe it's better to offer something with a dollar value attached so that the client knows exactly what they're getting! If you choose to offer a percentage discount, make sure it's more than 10%; most people won't leave home for 10%. A $10 discount has a higher perceived value than 10% off.
3. Bring a friend.
This promotion requires two practitioners to be available, and performing a dual service can help each one win over a new client.
Continue reading on for tips 4-8 in our Digital Magazine...
Tazeem Jamal is a spa business coach, retail sales catalyst and has been in the industry for more than 30 years. In addition to coaching, she works as a master esthetician in her own boutique business, Skindulgence Spa in Port Moody, BC, Canada.