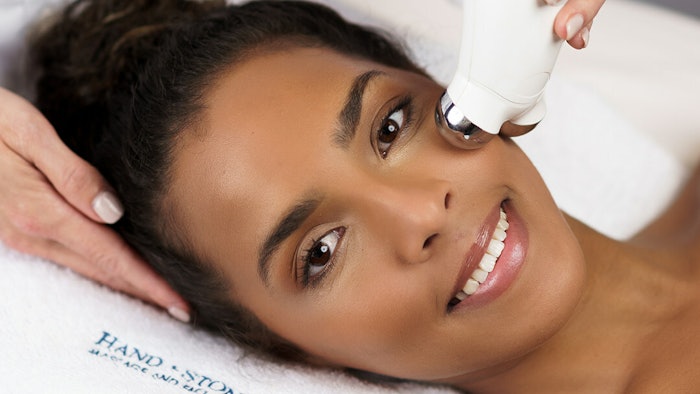 Photos courtesy of Hand and Stone
Hand & Stone Massage and Facial Spa has announced new investment plans for the brand through 2023 to attempt to appeal to a wider audience. Some of the planned investments include the launch of a collection from Image Skincare, more budget-friendly facial enhancements and a reintroduction of the customer-favorite collection.
Hand & Stone claims that nearly 40% of services provided at the spa's more than 550 locations nationwide are facial treatments, and in 2022, Hand & Stone performed more than 1.6 million facials, generating $211 million for the brand, a 30% increase year-over-year.
The spa has already established long-term partnerships with Dermalogica and ClarityRX, rebranding its facial service menu this year to align with Dermalogica's pro treatment menu and introducing new skin care technology options for facials like Dermalogica's ProPen services (Luminfusion and Nanoinfusion), LED Light Therapy, NuFACE, DiamondGlow and Cryoskin. The rebranding towards Dermalogica services aims to attract Dermalogica "skinthusiasts" to Hand & Stone. 
Related: Cryoskin Treatments Debut at Hand & Stone Spas Nationwide
Lisa Rossmann, senior vice president of service & product at Hand & Stone, said, "We're no strangers to skin care here at Hand & Stone, and we're thrilled that our aggressive approach to offering innovative skin treatments to our customers is working. Not only are we attracting more and more facial-only customers, but the majority are also excited to elevate their treatment with targeted enhancements with device technology, such as a DiamondGlow or LED light therapy enhancement, which each accounted for 17% of all facial services last year."
Its new collection of Image Skincare products and services will be in the organic and medical grade segments. The spa hopes to target a younger audience with its cheaper facial enhancements, which include ultrasonic, gua sha and ice globe tools.
"We've had great success over the years convincing our base of massage consumers to try and fall in love with a facial, and now nearly half of our member base is using their monthly service for both massage and facial services," Rossman said. "We're excited to continue evolving our offerings to attract more skincare-centric consumers and meet higher demand."