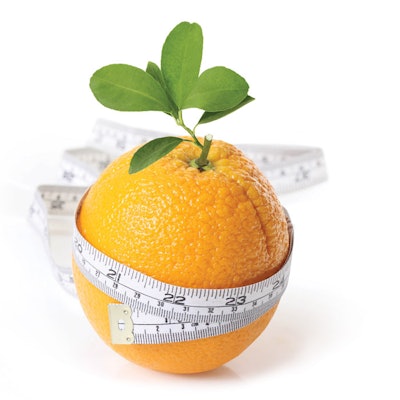 Experts and formulators weigh in on what ingredients, techniques and treatments will help spa pros address this dimpled dilemma.
Katherine Tomasso, national director of education, Yon-Ka Paris: "Cellulite mainly affects post-pubescent females—up to 90 percent of women—and some men develop it as well. It's a connective tissue disorder caused by excessive fat in the hypodermis plus inflammation, typically found on areas with the least circulation. Treatment crèmes containing capsicum, cedar, nutmeg and pine extracts help support lipolysis (fat breakdown) while maintaining the health and elasticity of the tissues and capillaries. To help burn fat and inhibit the production of new fat, the Yon-Ka Paris Aroma- Fusion Silhouette line includes a body-toning spray containing lipolytic pink peppercorn oil. Our spa protocol also features a specialized draining and sculpting massage along with an intense, remineralizing scrub that aids in eliminating dead cells, oxygenating tissues and increasing microcirculation. These types of services appeal to clients seeking a corrective slimming series, or those looking for maintenance and healthy tone. In addition to recommending products and treatments for cellulite control, therapists can design customized wellness programs that include daily rituals like total body brushing, plus dietary and exercise advice."
Christian Jurist, MD, medical director of global education, Pevonia: "Cellulite is a chronic, multifactorial skin disorder that requires a combination of approaches. For instance, one Pevonia body wrap contains micronized green coffee extract and niacin to help improve microcirculation and detoxify the skin, while another delivers liposomal stem cell extracts from argan and comfrey root, as well as lipolytic complexes of green coffee-rapeseed, shea butter- avocado-bentonite, and green pea extract. These encourage skin smoothing, water elimination, detoxification and fat breakdown. Comprehensive protocols should include surface exfoliation with a body polish, cellular activation and detox with high-tech serums, fat breakdown stimulation with a mask, and deep moisturizing and protection with a cream. Best results will always be attained with a series of treatments and consistent at-home maintenance and lifestyle improvements: exercising and eating right, not smoking, avoiding circulation- restricting garments, and locally massaging trouble spots after sitting for long periods of time."
RELATED: 2019 Professionals Choice Awards Winners: Body and Supplements
Flora Vergnolle, CEO, Provence Cosmetics and Bioslimming: "Body wraps have been used for centuries as a method for removing excess fat, which ultimately helps minimize the appearance of cellulite. Bioslimming's top performing ingredients include caffeine, which supports lipolysis, and plant extracts such as algae, ivy and horse chestnut. Professional services can be targeted to address cellulite, as well as detox, inch loss, firming and toning, and skin smoothing. Encourage clients to make weekly or monthly appointments, and help them keep fighting cellulite by encouraging them to exercise regularly, cook lighter meals, drink plenty of water and use firm pressure while massaging in their daily anti- cellulite cream or gel."
Cellulite Products
Beth Ann Maloney, training and education manager, Thalgo USA
: "Products containing natural marine mud and algae help stimulate perspiration, circulation and drainage. We've also seen results with our Body Palp technology—a handheld apparatus that lifts and rolls the skin, helping to smooth, firm and refine the figure. It can be used specifically on stubborn areas or the whole body, with no downtime or pain. A series of four to six cellulite treatments like these can be combined with slimming wraps and marketed as a complement to weight-loss plans that include healthy eating and exercise. It's also imperative that therapists recommend home care, such as circulation-boosting gels and firming creams; dietary supplements are helpful, too, and we suggest the Thalgo Active Detox Drink containing fennel, black radish artichoke and fucus to support weight loss."
RELATED: Popular Technologies That Target Clients' Body Contouring Needs
Elina Fedotova, CEO and formulator, Elina Organics: "Spices like cinnamon, clove, mustard seed and pepper can improve blood and lymph flow through problem areas, and help the client sweat more and detoxify. Concentrated coffee and caffeinated black and green teas are also helpful for improving circulation. These ingredients work best when encapsulated in liposomes for better penetration, or when delivered to deeper layers of the skin with ultrasonic or radiofrequency (RF). Protocols that feature vibration, suction, intense manual massage, infrared LED or cold laser devices, combined with specialty products, are all smart options. Education is important, as well—clients need to know that cellulite is caused by a lack of circulation and oxygen in the area, as well as a concentration of fat cells right underneath the skin. Recommend a diet lower in sugar, salt and starch, and higher in vegetables—along with exercise and regular massage. Even if clients can't get a weekly massage, they should use a massage chair or shaking platform to assist blood flow. Finally, before and after photos play a crucial role in marketing cellulite products and services."
Ottmar Stubler, president, PFB Vanish: "A dual approach is important when addressing the appearance of cellulite. Below the surface, ingredients such
as caffeine and plankton extract can stimulate and tone the skin, while nourishing topicals such as aloe, shea butter and coconut oil help hydrate, soften and smooth. Cellulite is very common even in the fittest clients, so rather than promoting products and services for detox or weight loss, we prefer a 'Love Your Body' mindset that includes healthy, active lifestyle recommendations. Get outside and enjoy nature with more confidence in your appearance."
–by Alexa Joy Sherman
This story first appeared in the June issue of Dayspa magazine. To receive the magazine, click here to subscribe.
[Images: Getty Images; courtesy of manufacturers]