Q&A with Elina Fedotova, the formulator and CEO of Elina Organics.
What's the best career decision you've ever made?
Starting my own company. I really enjoy it: I get to devise skincare formulations, make labels and plan schedules, and I can pick the people I hire and take on as clients. As a business owner you can create your 'family' and that's wonderful.
What's the biggest change you've seen in the industry?
The holistic evolution in the U.S. whether mainstream doctors and corporations want it or not, it's happening. Products must be able to penetrate the skin's barrier and deliver nutrients to live cells, but we have to make sure they're not toxic. Organic ingredients are recognized by our bodies and work like foods—that's why I always say, 'If you can't eat your lotion, you shouldn't use it!'
What makes your company so unique?
My principles. I choose my employees based on who they are as human beings. I can train people to be professionals but not to be caring and loving humans. In addition, all my products are hand made in the lab. We do everything in house and from scratch, down to the labeling. In addition, products are seasonal, so a winter formula is slightly different from a spring/summer formula. Even in locations where the weather stays the same for most of the year, clients still need to switch up their regimen so their skin continues to respond. And if a salon orders my product but didn't sell an item by, say, March, they can exchange it for a new formula free of charge.
RELATED: Professionals Choice Awards – Skin & Face Winners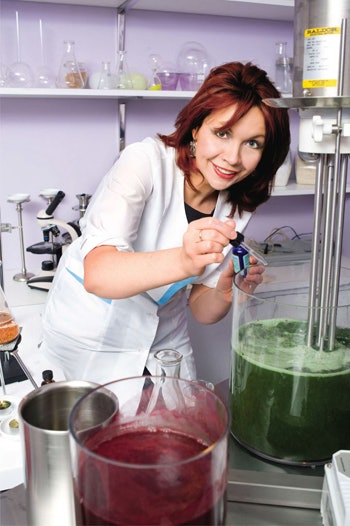 You founded the Association of Holistic Skin Care Practitioners in 2007. What is its importance?
It helps estheticians and doctors who are looking to adopt a more integrative approach. At the annual event, members can meet and become sources of information and education for one other. It's a lot of work, but it's my way of giving back and expressing my gratitude for everything I have, by helping like-minded professionals help each other.
Who inspires you?
In general, I admire people who don't settle for the easy or conventional way of doing things. When you compare doctors who play golf all the time with those who keep traveling the world and learning more, the latter type of individual is my inspiration. I also admire Dr. Brian Weiss, a psychiatrist and an expert in past-life regression therapy. He's one of the most humble, sweet and friendly people you could meet.
What's the most common mistake you seen skincare clients make?
When they have very oily skin but don't use the proper products. Their skin is covered by a layer of dead cells, which makes them feel dry, so they use heavy creams and oils, but that only makes their skin oilier, and hardens the dead skin cells. These clients fail to understand that they need to start with exfoliation to remove the shell of dead cells, and they need to hydrate their skin. Many don't understand difference between hydrating and emollient products. Young estheticians go by what the clients are saying and give them a cream for dry complexion without analyzing the problem. As an esthetician, you have to analyze the skin yourself, not just believe what the client tells you.
Tell us something most people don't know about you.
There's a misconception that I'm very social. I do love talking, chitchatting and attending events, and I'm often on TV, but in my private time I'm quiet and nonsocial. I need to be able to recharge.
RELATED: Pamper Your Career With Premiere Dayspa
What do you miss most about your home country, Russia?
Its beauty, and the people, who are very spiritual and open to ideas that might be considered kooky here! I also miss my friends and the theater—I go every night when I'm there.
Who is your mentor?
I have several—in Russia, in Sweden… I can't count just one. They're in the same industry: holistic doctors, homeopathic professionals and so on.
How do you unwind?
By swimming and spending time in nature. I love to read and listen to classical music too. Music is a vibe, a wave that physically affects us… It truly has the power to heal.
What's your personal mantra?
Keep breathing, going and growing. As soon as we stop growing, our souls start dying. We need to learn new things every day.
Who would you most like to meet?
Anton Chekhov. I love his entire body of work. He understood the human psyche, in particular our strengths and weaknesses.
What are your favorite books?
I love anything by Sergei Dovlatov, and I also admire Vladimir Nabokov. Plus, I recently enjoyed Journey of Souls: Case Studies of Life Between Lives by Michael Newton, Ph.D. (Llewellyn Publications, 2010).
What's on your bucket list?
I don't have one. I love traveling but there's nothing that I think I have to do. I believe in flow, and I trust and go with it. If it's meant to be, it's meant to be, and if it isn't, it isn't.
What's in the pipeline for Elina Organics?
New formulations, and I'm also participating in educational events and writing articles. Just being busy!
–by Lesley McCave