What do you enjoy most about your job?
I'm most exhilarated when formulating new products. Creativity is what got me started more than 20 years ago, and it still brings me joy today. I'm also very passionate about education. As a scientist, I love meeting skincare professionals and talking about how skin care should be science-driven.
To what do you attribute DermAware's success?
There are many things: creativity, in terms of formulating innovative products and taking a modern approach to professional facial treatments; passion, which is what drives DermAware from the top down; and people, because the whole company loves what we do and everyone is always willing to go above and beyond to support our clients.
How do you find a work-life balance?
Most women business owners are often also juggling family and social commitments, and day-to-day balance is so important. When I'm not at the office, I don't respond to work-related email or calls; I just try to live in the moment. I'm truly able to unwind when I travel. I love immersing myself in different cultures and environments to experience life from a different perspective—if only for a short time.
RELATED: Professionals Choice Awards 2018 – Skin & Face Winners
What advice would you give to someone just starting out in the spa industry?
Surround yourself with good people. Whether you're starting your own business or are employed at a spa, the people you work with, as well as the skincare line that you choose, will greatly influence your growth and success.
If you weren't in this business, what would you be doing?
It would have to be something creative, entrepreneurial and scientific—maybe running a nonprofit organization that helps advance medical research.
What's your biggest fear?
I don't really dwell on fears, but I'm afraid of extreme rollercoasters!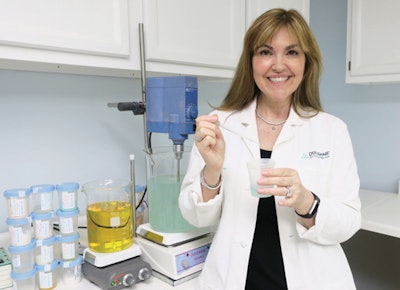 What's in the pipeline for the company?
We're working on several new products this year. Look out for our new Black Gold Peel and Mask, as well as the Summertime Peel for backbar. Also, we're launching a new Healing line for home care: the Healing Powers Sleep-In Mask, Cleanser and Barrier Gel for sensitive and postprocedure skin. Finally, we'll be introducing a new brand—exciting details to come!
RELATED: Spa Pros Weigh in on the Benefits of Enzymes
What's your favorite non-DermAware product?
My Dior Iconic Mascara—black, non-clumpy and gentle!
Rapid Response
Scariest thing you've ever done: Returning to an abandoned New Orleans, days after Hurricane Katrina
Last book you read: Leonardo Da Vinci by Walter Isaacson
Personal mantra: Live life to the fullest and surround yourself with love.
Would most like to meet: Cleopatra
Guilty pleasure: Reality TV
Favorite food: Sushi
Favorite city: Paris
Pet peeve: Laziness
Can't leave the house without: My large—but light—black bag!