What's the most common mistake you see skincare clients making?
Thinking that a less expensive, generic brand yields the same result as a professional one. I preach that skin is worth the investment, and that the return on that investment is priceless!
How do you motivate others?
Motivation can be short lived, so I try to inspire by tapping into everyone's personal passion. I once had a business consultant who was struggling to open new doors. In speaking further with her, I discovered that she had a deep-rooted passion for education. I encouraged her to tap into that passion and apply it by selling through teaching: Rather than lead in with just the product, I suggested she lead in with a demonstration to create a learning opportunity that could increase the prospect's skincare revenue by 20 percent or more. She is now one of the company's top producers of new business development because she does what she loves. If we continue to do the same thing expecting different results we WILL be disappointed.
RELATED: One on One – Karen Asquith National Director of Education, G.M. Collin
How do you manage to find a work-life balance?
It's difficult in this crazy time we live in! My best practice is to set boundaries and stick to them as much as possible. Because my team is spread across the country in three different time zones, and in the past I've tried to be everything to everyone at all times. This disrupted my family life, my 'me' time and even my weekends when I allowed it. But now my team now knows I'm only available from 8:30 a.m. to 6:30 p.m. If there's an emergency outside those hours they can text me, otherwise it can wait until the next day. I start my morning by walking my two fur babies, Bailee and Chatta, to clear my head and breathe. Three evenings a week, I work out with a personal trainer to stay strong and healthy. This new schedule has been a success, and my time with my team is now more productive.
What's Pevonia's biggest selling point?
Our results-driven delivery system that allows our clients to reach their optimum skin health. [Better known as the 'W.O.W. Effect'! This is an advanced tri-phase (Water-Oil-Water) micro emulsion, which provides the skin with an extra dose of hydration while allowing actives to be entrapped for a more controlled delivery into the skin. This in turn allows better and deeper penetrability of ingredients toward a faster and longer lasting result. One look at your skin after a Pevonia treatment…. the only thing you can say is WOW!!!]
RELATED: One on One – Alicia Grande CEO, Grande Cosmetics
What's in the pipeline for the company?
There are so many new and exciting things, from new product and service innovations to education and even homecare facial devices as an extension of the treatment room. Stay tuned!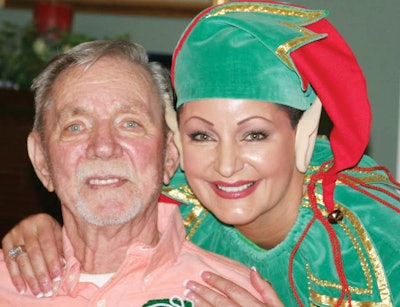 Which causes do you support?
Because I had a parent who spent many years in an assisted living facility, I grew to understand that it's the simple things that bring the most pleasure yet are so often forgotten. During the holidays my husband Chuck and I dress up as Santa and an elf at many facilities within our hometown of Warner Robins, Georgia, handing out gifts, catering dinners, playing music and taking photos, which create happy memories for the residents that can be shared with their loved ones.
What would you do differently if you could live your life over again?
Nothing other than to take more time to actually enjoy the journey. Sometimes we get so caught up in the process that we forget the purpose. We need to stop and enjoy the hustle. I've had the wonderful pleasure of traveling this beautiful country and abroad throughout my 23-year sales career. I've had to learn to slow down and take in the beauty around me. I recommend extending a trip when possible to truly experience and learn about different cultures—because when we stop learning we stop living.
RELATED: Industry Experts Reveal Spa Trends, Values and Challenges in 2018
Who would you most like to meet?
Tony Robbins. I was first introduced to him through a friend when I was in commercial real estate many years ago. She shared a set of CDs with me called Unleash the Power Within. I listened to all six discs over a long weekend. It was totally life changing as I learned skills in overcoming my fears, changing my belief system and so much more. I've continued to follow him over the years and try to share what I learn when coaching my team. If a weekend with a few CDs inspired me to be the best me I can be, I can't even imagine the takeaway of a one on one opportunity to meet him in person!
You love to travel… What's next on your itinerary?
I'm looking forward to attending the Green Spa Network Buyers Conference in Park City Utah in May 2018. We'll be helping to change the face of this industry one valued Pevonia partner at a time!
Favorite holiday?
Christmas.
Favorite TV shows?
America's Got Talent and The Voice.
Guilty pleasure?
Chocolate-covered raisins.
Personal mantra?
Live each day like it's the last and do it with passion and purpose!
Can't leave the house without:
Performing my Pevonia regimen and putting my makeup on!
What inspires you?
Making a difference in people's lives.
Biggest fear?
Not making a difference in people's lives!