Touch Day Spa
in Pacifica, California. "When guests buy a series of services, they commit to a certain number of treatments, meaning they're more likely to return and we can work together to get the results they need." Take a look at what goes into developing a best-selling series—and how you can get clients on board.
The Right Stuff
Whether it's sunless tanning sessions or acne-fighting facials, the best services to offer as a series are those that give guests immediate as well as cumulative benefits. "Most of our clients come in to treat something specific," says Tina Griffin, spa director of Blitz Facial Bar, with locations in Brooklyn, New York, and Toronto. "When dealing with concerns such as pigmentation, rosacea or aging skin, receiving multiple treatments at scheduled intervals increases the success of those facials and yields long- lasting results for the client."
Among the numerous, goal- specific series that Blitz offers, one of the most popular is the Red-Carpet Ready package, a favorite among brides. It includes three 30- to 60-minute customized facial treatments, along with a complimentary product best suited to the guest's skin type. Griffin says that leading up to the wedding, a typical series might include The Works (60 min./$130), a deep cleansing facial for the first treatment; an Intense Pulsed Light (IPL) treatment (30 min./$140) for the second; and a skin-brightening O2 Blitz (60 min./$200) treatment for the third. "The complimentary product we would suggest for this particular package is our Vitamin C Day Repair to brighten the skin—an added value of $80," notes Griffin.
RELATED: Improve the Spa Experience With Enhanced Beverages
Meanwhile, when people visit Touch Day Spa in search of relief for aches and pains, Porteous and her staff are quick to tell them about the advantages of buying a massage bundle, which includes five 60- to 90-minute services for $360-$550. "You can make someone feel better with one session, but nine times out of ten they're going to leave the spa and put their body back into the positions that brought them to us in the first place," notes Porteous. "So, we explain that coming back multiple times will help the results last longer."
Indeed, educating clients is crucial for successfully selling series. Porteous says that when a guest and therapist work together over the course of several sessions, the therapist has that much more time to offer advice about things like improving body mechanics or the benefits of stretching and staying hydrated. Likewise, Griffin emphasizes the importance of teaching clients about how their skin functions and what long-term strategies will help them get the outcomes they're after. "For example, if acne is a concern, we advise them to get treatments in two-week intervals for best results," she says.
Demand for certain services can also help you determine what series will sell best. Naomi Ervin, spa director at Tulalip Resort Casino & Spa in Las Vegas, realized that a teeth-whitening bundle would be of interest after she noticed more bookings for these treatments whenever they went on sale. "I see a lot of repeat guests for this service, so it made sense to add it to our series menu," she notes. "The treatment is typically $75, but we offer a series of three for $175 for a savings of $50, or a series of six for $330, saving the guest $120."
Blitz also comes up with ideas for series based on responses to an ongoing "Ask the Expert" solicitation, where the spa invites clientele and others to submit questions to estheticians via social media, monthly newsletters and the website. "We receive many different types of questions, and that helps us zero in on what clients want and require," says Griffin. In fact, management designed packages for clients dealing with acne, skin sensitivity and dehydration after noticing that they frequently fielded questions from women in their 30s concerned with these conditions.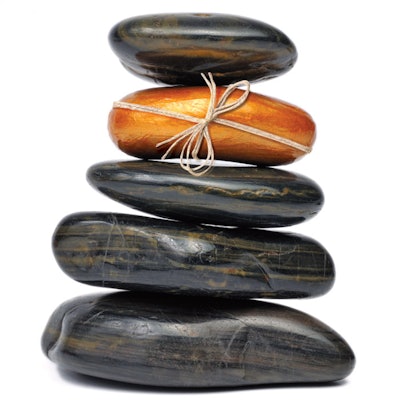 Sweet Deals
Of course, one of the biggest selling points is the built-in discount clients receive when they pay for multiple treatments up front. "I prefer the 'buy five and get the sixth one free or half price' model," says Janice Nichols of WTS International, a spa consulting, design and management agency in Rockville, Maryland. She suggests that spas clearly highlight how much the guest will save by purchasing a full package versus buying a stand-alone service. "Break it down according to the savings on each treatment," says Nichols. "For example: A one-hour facial costs $200, but buy a series of six at $1,000 to save a total of $200 or about $33 each." Nichols also recommends making these package deals more enticing by offering a small gift with purchase (as Blitz does with its Red-Carpet Ready and Frequent Facial series).
RELATED: How To Encourage Workplace Wellness
Similarly, low-priced upgrades or enhancements can go a long way toward making a series sell. Touch Day Spa regularly encourages guests to add champagne and a foot soak (25 min./$25) with bath salts and essential oils prior to each facial in their series. "The treatments are aggressive and results- oriented, but these upgrades allow guests to experience some luxury with it," says Porteous, who notes that the small yet simple upgrades have prompted some women to purchase the same customized packages for years.
Limited Timeframes
Many spas create a sense of urgency with seasonal specials or limited time offers on their packages. "I like the idea of a series sale one time per year," says Nichols. "Offer your best prices of the year, but the number of treatments is limited—an annual September sale might offer three services that must be used before November 30 to fill a slower time on the books."
Tying series to a certain holiday or time of year when guests want to look their best can also help them sell. For instance, Porteous has offered seaweed body wraps in spring to help people prepare for swimsuit season. "We have a 'specials' section on our website—that's where we explain what the wrap is, the ingredients used, what it targets and why it's good for you," Porteous explains. "At the end we say, 'Series recommended because the effect is cumulative.'"
Another ongoing option could be a series that helps guests prepare for a special occasion, such as a wedding, graduation or birthday party. "Usually when women are doing things for their bodies or faces, they're getting ready for a specific event," notes Porteous. Determine whether this is indeed the case for your clientele, and create your offerings accordingly. If they do wind up taking advantage of such series, chances are they'll be grateful that you helped them come up with a plan to ensure they looked their best—and they'll most certainly be back when future occasions arise.
–by Barbara Diggs
This story first appeared in the May 2019 issue of DAYSPA Magazine. To receive the magazine, click here to subscribe.
One of the single best ways to make sure guests return your spa time and again is by convincing them to commit to a series of ongoing services. This is not only a sound strategy thanks to the repeat business it brings in, but also because it will equal even more significant and noticeable benefits for guests—thus increasing client satisfaction and boosting your reputation. "Healing the body or giving life back to the skin can take time," says Lana Porteous, licensed esthetician and massage therapist at