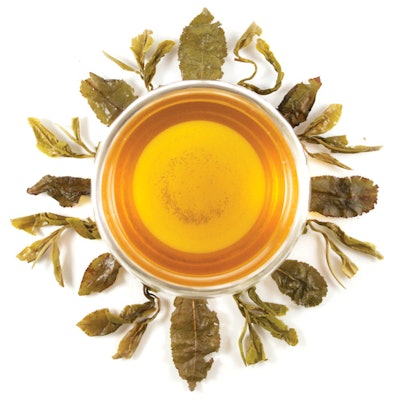 From cucumber-infused water to chamomile tea, certain beverages are a standard part of the spa experience. But to truly stand out in the industry, businesses need to demonstrate that they're on top of the latest beauty and wellness trends—one of which is enhanced liquid refreshments that can be offered in self-serve relaxation spaces, before or after treatments, and for sale in retail boutiques. "Consumers are searching for 'functional beverages,' or drinks that improve their health and well-being," says Ryan A. Maguire, founder of loose- leaf tea supplier The Tea Cellar.
Such offerings are especially attractive to a younger clientele—according to a 2016 survey from the International SPA Association (ISPA), millennials stated that the No. 1 amenity that would improve their spa experience was refreshments. Garrett Mersberger, ISPA chairman of the board and director of wellness for Kohler Waters Spas in Wisconsin, notes that even simple adjustments like fruit infusions will make an impact.
To that end, some of the savvier establishments have truly upped the ante, introducing clients to such options as crystal gemstone water and collagen beauty drinks. Spa pros say that when they provide these options pre- or post-treatment, they increase client satisfaction and retention. And when retailing drink accessories in addition to the enhanced beverages, profit margins can be considerable.
On the Menu
Tea is the most widely consumed beverage in the world after water—and, given the health benefits that many varieties boast, it certainly qualifies as a functional offering that spa-goers tend to appreciate. Of course, custom blends, unique flavors and goal- oriented options (think: detox and weight-loss teas) only serve to increase the appeal.
RELATED: The Many Benefits of Chamomile Go Far Beyond Tea
For instance, client demand for big flavors at locations like David Douglas Spa in Wilton Manors, Florida, prompted The Tea Cellar to create its Peach Apricot and Green Sencha offerings, which have become spa industry favorites. "Clients love the flavors and that they're doing something good for themselves by drinking these teas," says Maguire. In fact, David Douglas displays them as part of its treatment lineup, noting that the beverages pair well with skincare offerings and reinforce the concept of beauty from within. "For example, the Sencha Green is detoxifying, which complements most spa treatments," explains Maguire.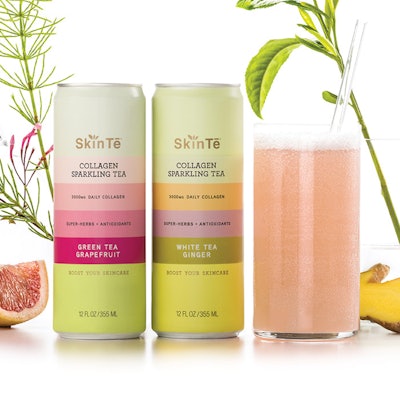 Even tea can be enhanced. Take SkinTē, a sparkling collagen beauty drink formulated by a doctor and a chef, which was launched earlier this year at the spa at Four Seasons Resort The Biltmore in Santa Barbara, California. The drinks—formulated with organic teas, herbs and collagen peptides—are retailed in the spa's fitness center. "Customers are still getting used to the idea of having collagen in a drink, rather than as part of a skincare regimen," notes senior spa director Jaana Roth. But once they see their improved complexions, it's a safe bet they'll be hooked on the beverage's beauty benefits.
That's certainly been the case at Polished Salon, Spa & Wellness in Lemoyne, Pennsylvania, which offers the M'lis Radiance Collagen Beauty Drink (containing nutrients and hydrolyzed collagen II). Polished owner Stacie Sheely reports: "Clients like the taste—and love the results. A lot of them notice a reduction in fine lines and some say that, after a time, their joints move better. I drink it every day myself, and regularly receive comments from guests about how healthy my skin looks." Another trend takes spa water a step further with crystals and gemstones. "We introduced the VitaJuwel water bottle in our relaxation lounge, with different self- serve options that feature amethyst, rose quartz and clear quartz," says Roth. Sealed in a pod separate from the water itself, the gems' vibrations are believed to have calming, balancing benefits, and the bottles are a big hit with crystal healing enthusiasts.
RELATED: Taste: Green Immuni-Tea
Guests at The Biltmore also appreciate water mixed with Pure Inventions Coconut Water Infusion Drops, which therapists present to them following spa services. "The beverage contains naturally occurring electrolytes from coconut, and is a delicious calorie- and sugar-free hydration option," notes Roth. "Of all the beverages we offer, this one is the most popular in our retail area—probably because coconut water has been on the market for a while now, and most guests are familiar with its benefits. It helps them continue practicing their newly acquired wellness habits at home."
Sales Potential
How much do spas stand to earn from these beverage offerings? As Maguire notes, the return on investment (ROI) is twofold: "Spas can attain a high ROI when they sell tea and tea accessories, but it also works as a complimentary service feature that leads to non-accounting ROI, such as customer retention and attracting new clients."
Complimentary tea can cost a spa anywhere from $0.15 to $0.50 per client, depending upon the kind of tea and how it's served—but, again, that can lead to customer satisfaction and retail sales with impressive returns, according to Maria Uspenski, founder and CEO of The Tea Spot, which produces whole-leaf teas available for private label. "When a spa successfully sells tea as part of a lifestyle that promotes health and beauty, it gains an additional channel of revenue with good profit margins," she says.
Selling these beverages can even enhance certain treatments. "Functional beverages can support nearly any service offered in the spa, and they present an opportunity to increase your average ticket per client," says M'lis CEO Wallace Vigo Nelson, CNHP. "Beauty beverages' high ROI makes them great for an add- on sale." Indeed, Sheely says M'lis Radiance is especially popular among her microneedling and nano-fractional rejuvenation clients. "They come in for an ablative treatment that stimulates collagen growth, and they want the best skin-supporting nutrients to maximize their results," she notes. "We've sold as many as 40 per month, adding a couple thousand dollars in sales to our bottom line." With returns like that, offering enhanced beverages clearly makes good business sense—and could easily make your spa the toast of the town.
– by Marina Kay
[Images: Courtesy of The Tea Spot; SkinTē]
This story first appeared in the May 2019 issue of DAYSPA Magazine. To receive the magazine, click here to subscribe.