Associated Skin Care Professionals
(ASCP). "There's always something new being introduced, from massage modalities to skincare ingredients, and today's consumers are savvy about the latest treatments—so if professionals don't keep up with trends, their clients will eventually find another spa that does."
But with so many CE courses available—and so many skills potentially required of spa pros—it can be tough to decide which ones warrant your time and money. Should you get certified in something that could wind up being a fleeting fad? Do you really need to become more proficient in a particular area, or are you already at the top of your game? To help you navigate these continuing education conundrums, we spoke with industry leaders who have their fingers on the pulse of what spa-goers are seeking most.
Skincare Specialists
As an esthetician, your facial services may be second to none. But what more could you be offering your clientele? Cormier points to microneedling as a skill worth mastering. Typically done with a dermaroller, the minimally invasive procedure punctures the skin with tiny, sterile needles to jumpstart repair, and promote collagen and elastin production. Great for improving overall texture, minimizing acne scars and refining pores, the treatment also appeals to guests because recovery time is minimal. Worth noting: Since microneedling depth can vary depending on the issue being addressed (for example, deep acne scars require a longer needle), training requirements also vary. "Shorter-depth microneedling can be done by a licensed esthetician if allowed under their state's scope of practice, while longer-depth microneedling would have to be performed by a doctor or nurse in a medspa setting," says Cormier.
Peels also continue to be in-demand and lucrative, says CIDESCO president Anna-Cari Gund. "They can be mechanical, such as microdermabrasion, or chemical, where different acids are used," she notes. "They've been around for some time, but lately they're getting more refined and targeted." Gund says that peels are particularly well-suited for clients with acne, dark spots or those who may require some resurfacing to improve texture, but it's the immediate results that make them so popular. "These days, time is of the essence," she remarks. Training courses for both microneedling and chemical peels can take just one day, with tuition fees starting at 550, and the return on investment (ROI) can be considerable because treatments typically command fees from $100 to as much as $1,000, with multiple sessions often recommended.
RELATED: New CIDESCO USA Skin Care and Body Therapy Certificates Available
Classes to Consider: "Microneedling & Chemical Peels," Thrive Skin Institute; "Chemical Peel Training," American Board of Aesthetic Medicine.
Bodywork Practitioners
According to the American Massage Therapy Assocation (AMTA), the vast majority of massage therapists (92 percent) have taken CE classes—and the AMTA specifically requires that its members clock 48 hours of CE every four years. "The ability to diversify your routine and expand your knowledge helps prolong your career, all while delivering the type of service that guests deserve," says Phillip Kolozie, licensed massage therapist and spa manager at Mirbeau Inn & Spa in Skaneateles, New York. To determine if a particular type of training is worth your time, Kolokzie notes that it's better to take a cue from what your clients are requesting, rather than trying to be the first to offer the latest trend.
Understanding how to protect yourself as a therapist is also important. "If you primarily work with athletes or injury rehab, take courses that will save your body," says Kolodzie. "Body mechanics, stretching, and finding ways to save your thumbs will give you the greatest benefit." Kolodzie also suggests learning active isolated stretching, as well as cupping. "They're fantastic ways to reduce your physical strain, are incredibly simple, can easily be added into any routine, and will prolong your livelihood," he explains. Finally, with the recent rise in lawsuits against massage therapists, an ethics course would also be worthwhile.
Classes to Consider: "Massage Cupping Workshop," Go Deep Massage Therapy; "Understanding Healthy Boundaries," American Massage Therapy Association.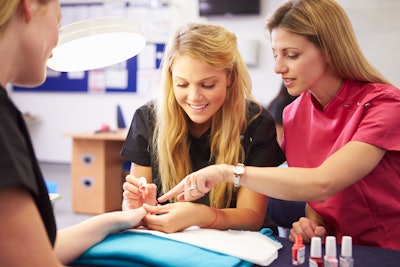 Nail Pros
Nail trends come and go, but mastering the fundamental techniques behind them "has true staying power," notes Sigourney Nuñez, education manager for OPI North America. Take an acrylic French set, for example: "The look is timeless," she says, pointing out that although this specific service may not always be one that's requested, it's a basic that techs can build upon to create more in-demand designs. Another popular offering that every pro should conquer is gel polish, says Nuñez. "Invest in learning proper prep, application and removal so you can maximize wearability—that will translate to client loyalty," she continues. If you love a particular brand's products, the best thing you can do is take a class with one of their local instructors. "Brand educators are a great resource because they're trained specifically on how to use that manufacturer's products with the appropriate protocols, and they can help work out any kink techs may be experiencing in the salon," says Nunez.
Classes to Consider: "Mastering Gel" and "Use Your Imagination-Acrylic," Young Nails; "Nail Art Trends & Techniques" and "OPI Powder Perfection Experience," OPI.
Makeup Mavens
In the world of cosmetics, the quest for full brows and lush lashes shows no signs of slowing down. To help guests achieve these goals, Cormier says pros may want to learn about microblading—a form of eyebrow tattooing during which artists apply tiny hairstrokes with a handheld blade. "Microblading is one of the fastest growing trends in the country," notes Cormier. "There's no need for brow makeup that wears off when swimming or sweating, and it's popular with people who have light or sparse arches." As the popularity of these services grows, so does the number of training programs being offered—and although classes can be costly (starting around $2,650), and equipment isn't cheap, the high pricepoint for the procedures (typically starting at $450) makes them lucrative.
Like microblading, lash extensions are a cosmetic shortcut for clients who don't like to spend a lot of time applying makeup. "They're a great source of continued revenue for spas because they're a treatment that clients need to keep up," adds Laura Sheridan, head of beauty and well-being at U.K.-based education provider The Training Room. Certification courses can cost anywhere from $300 to $1,000, including a starter kit with equipment and other supplies, and should yield a solid ROI once the requisite skills are mastered (the typical cost to the client for a full set is $100 to $300, with fills every few weeks ranging from $30 to $60).
RELATED: Successful Hands Grant Program Announces 2017 Winners
Classes to Consider: "Allround Micropigmentation Specialist Basic Training," Nouveau Contour; "Beginning Lashing" and "Microblading," Occhi' Institute.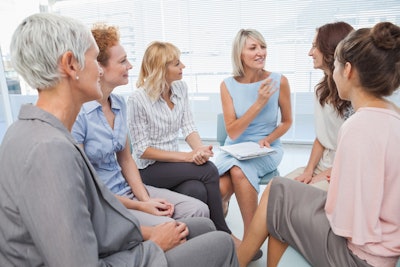 Spa Managers
From hiring staff to keeping customers happy, the skills required of a spa manager are sizeable. But which classes will ensure that you're a superior supervisor? For Diane Hibbard, vice president of treatments and development at California-based spa chain Burke Williams, it was a project management course that made all the difference in her career success. "Project management is critical in terms of how to lead people, delegate, work as a team and inspire creativity," she explains, adding that classes focusing on effective communication are also beneficial. If you're unable to attend a course right away, picking up a few books may be the best place to start—some of Hibbard's favorites include The Power of Vulnerability: Teachings on Authenticity, Connection and Courage (Sounds True, 2012) by Brené Brown and Leaders Eat Last: Why Some Teams Pull Together and Others Don't (Portfolio, 2014) by Simon Sinek.
Classes to Consider: "Certified Spa Supervisor Program," American Hotel & Lodging Educational Institute; "Spa Leadership" and "Spa Strategic Human Capital Management (HCM)," Raison D'Etre.
–by Jillian Gordon
Whether you're learning to perform a cutting-edge service or fine-tuning the skills you already have, continuing education (CE) can help you stay competitive. "Lifelong learning is essential in the beauty and wellness industry," notes Jesse Cormier, senior director for the