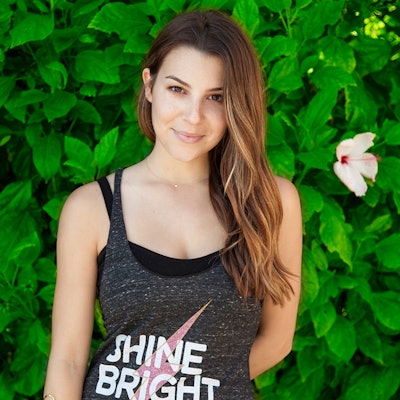 Luxury health and wellness brand Cuccio Somatology was launched in 2016 with the goal of bringing balance, calm and mindfulness to everyday experiences.
After graduating from the University of California, Los Angeles, Danielle Cuccio became a licensed esthetician, having been influenced by her involvement in her parents' successful beauty businesses, Cuccio and Star Nail Products. But when she discovered yoga, her aspirations to start a skincare line took a slightly different turn. "Yoga ignited my passion for inner as well as outer beauty," explains Cuccio, now a top private yoga instructor who also brings her healthy living tips to a wider audience via her blog, The Beauty Blender. The Cuccio Somatology brand was born out of the relaxing experience Cuccio creates for her clients and the importance of finding a calm, clear space amidst turmoil. Yogahhh! by Cuccio Somatology has a wide range of offerings including cooling wipes, muscle balm, balancing lotion and yoga mat cleaner. Here, Cuccio talks about the company culture and tells us what we can expect from the brand in the future.
RELATED: One on One With Tony Cuccio of Cuccio International
Hero Product
: Our Yogahhh! Milk Bath is a salt bath made for sore muscles and dry skin—my go-to soothing prodcuct after a long day. It's made with Epsom salt, cruelty-free milk powder and Mediterranean mastiha—a miraculous ingredient derived from one tree on one island in only one part of the world: Chios, Greece. Mastiha has been used for centuries for its healing and cleansing properties, and all of Cuccio Somatology's products contain it.
Inspiration Point: When I started practicing yoga, I noticed that my fellow classmates were walking out with a glow that no facial could ever give. I knew I was onto something and wanted to dive deeper into not only how amazing yoga can make you feel, but its beauty benefits as well.
Powerful Purpose: Our mantra is 'Om the Experience,' which means bringing clarity, focus and peace to your professional and personal life every day. Our vision is to create a brand and a company built on the basic principals of karma—that each action and decision has the power to contribute to the common good.
RELATED: Cuccio Names New Distributors in Israel and Dubai
Passion Project: I love how the wellness industry is constantly learning and growing. I'm always finding new ingredients I've never heard of, and I love being in a business that allows me to develop products that help bring more relaxation and yoga to people all over the world.
On the Horizon: This fall, we're announcing a new launch with a well-known brand. We'll also be introducing subscription-based and free website content that will allow us to reach thousands of people. We'll continue offering products that complement the concept of ritual, since consistency is crucial for experiencing yoga's benefits. We have rituals for each product (calming, cleansing, cooling), and every experience should result in a feeling of satisfaction, comfort and relaxation. I believe the beauty business is headed in the direction of mind, body and preventive wellness products, and I'm excited to be a part of that.