Maritza Rodriguez is the Global Vice President of Marketing & Communications for Pevonia International.
You've worn many hats during your career. What has been your favorite role so far?
Definitely my current position. With the company's global distribution at nearly 130 countries and a very aggressive marketing scope, no two days are ever the same. There's no time for boredom—ever! This fits perfectly with my crazy Cuban nature, which thrives on challenges!
What advice would you give to your younger, just-starting-out self?
Ban the following statements from your heart, mind and spirit: I can't, I don't know, I'm unsure, I'm afraid. There's no dream, goal or plan you can't achieve or execute when you combine a solution-driven mindset, relentless focus, ardent attitude, and perseverance that's as strong as steel—even if your knees are buckling the entire time. Just don't let anyone see them!
The company is celebrating its 25th anniversary this year. What does this milestone mean to you?
Since joining the company in early 2000, I have watched it grow with incredible momentum. From one international distribution point to nearly 130 countries in 25 years… we're all due for some much needed sleep!!! When I first came on board I asked [Pevonia co-founder] Mr. Hennessy, 'What is your primary focus for company growth and where do you see Pevonia in 10-20 years?' He replied, 'The world!' That memory still makes me smile as I flash back to his animated face and unwavering belief that it would be so. And so it is! In 2012, we celebrated an extraordinary milestone reaching distribution in 100 countries. I often relay stories of where we started as it makes every new plan or challenge less intimidating and much more attainable when I think of all that has been accomplished. I feel unequivocally blessed and proud to have played a role in this incredible journey; one with many intricate paths yet to transcend. This year, it's all about celebrating the loyalty of spa partners by expanding our education, sales and marketing support programs and introducing them to new products that will help increase profits and in turn reignite their teams and clients.
To what do you attribute Pevonia's success?
I'm often asked this question and it's a bit of a lengthy answer. First of all, I believe Pevonia's success started with the incredible insight the Hennessys had in creating a professional spa skincare line that combines potent natural and organic ingredients. I also feel that it's greatly due to their heartfelt love and passion for their company and valued spa partners around the world. All of this coupled with their genuine appreciation and connection to our global distributors and employees makes a powerful success formula. We are incredibly blessed that so many professionals who started with Pevonia since its launch, or shortly thereafter, are still with us today! That's a truly commendable accomplishment that speaks directly to how contagious entrepreneurship with authenticity and passion can be!
 Tell us something most people don't know about you.
I love to sing! I'm a strong soprano and given the chance, I'll sing anywhere and at any time! I can sing like nobody's business in the shower—there are great acoustics in there so I feel like I'm on the final round of The Voice… cut to dream sequence!
Tell us about the company's plans for the future.
Our executive team is currently solidifying the company's five-year plan, which includes expansion from 126 countries to 150, a significant increase in global sales, updated operational efficiencies across the world to sustain monumental growth and exciting research and development innovations. We recently launched our Phyto-Elite Stem Cells Face & Body Line as well as on-trend, results-driven retail innovations: Lumablanc Cream (an antiaging blend that diminishes dreaded dark spots and age spots), YouthRenew Tinted Cream SPF 30 (for a flawless-in-a-flash complexion with great UVA/UVB protection) and LipRenew Plump & De-Age Treatment (immediate plumper with powerhouse antiaging ingredients to blur laugh lines and wrinkles). We're delighted that celebrities and top media are raving about the benefits of these Pevonia newcomers. Personally, I have become a total product junkie since working here. I assure you that each one of these live on my vanity and travel with me! Next up: our new and improved Spa Care For Him line, BodyRenew (a natural, aromatic bath and body collection) and a few other products that we're confident will win the hearts of Pevonia fans around the world!
How do you find a work-life balance?
Honestly, this is an ongoing challenge when you love what you do and aspire to deliver nothing short of excellence, not because others expect it but because it's part of your being… it's what you do! I'm of the belief that there is a time and a season for everything and that we invest our time in that which we love. So I proactively schedule time for what matters most aside from my career: my faith, family, hobbies and my intimate circle of friends. Since realistically they can't all take a front seat simultaneously, I am a psycho-planner! I plan out as far in advance as possible which drives many of the more spontaneous people in my life a bit crazy.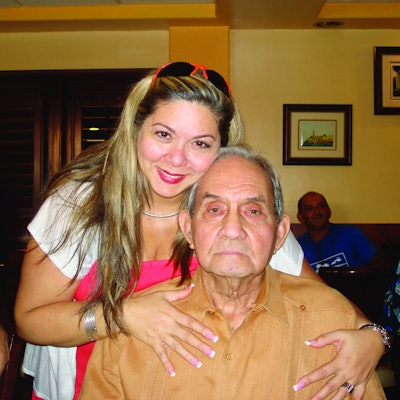 [Image: Maritza Rodriguez and Juan Bartolo Rodriguez]
Who is your mentor?
My beloved father, Juan Bartolo Rodriguez, who passed away on February 4, 2014. He grew up in Cuba under extremely poor conditions and was one of 15 siblings. He had a third-grade education and yet somehow managed to bring his family to the United States and prosper! Despite holding multiple jobs to support us, he still found opportunities to instill his love of life in us, and impact each of our lives with valuable words of wisdom that I still live by and often quote. Two immigrant parents with elementary education levels that produced five university graduates… truly admirable beyond words!
What was the last great book you read?
Fail Up by Tavis Smiley (SmileyBooks, 2013)
What's on your bucket list?
Discover at least 50 countries. And if I can do it while singing…even better (laughs!) I have 20 to go!
Set up a non-profit that empowers homeless and displaced women to re-enter the workforce and recapture their power
Once retired, offer pro-bono marketing to start-ups
What was the best career decision you ever made?
Relocating from Miami to Daytona Beach. I never thought it would last, but nearly 20 years later I'm still here and still in love!
This story first appeared in the October digital edition.