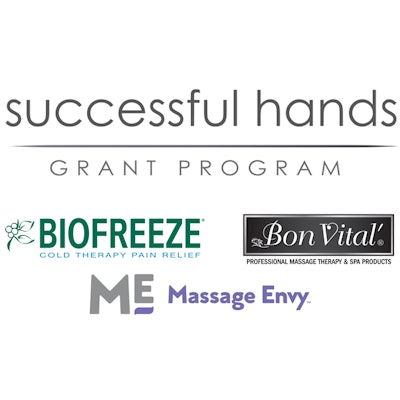 The massage therapy student grant program received over 750 applications.
Biofreeze, Massage Envy and Bon Vital' are pleased to announce the winners of their third annual collaborative Successful Hands Grant Program. This year's program, launched in March, supported the professional massage therapy student in their educational pursuits. Students applied for one of eight $1,000 grants. In addition, each winner's school receives a $1,000 grant package. All applicants were asked to complete a 200 word essay on "What being a successful massage therapist means to me." The submission process closed on October 15, 2016.
"As evidenced by the quality of the submissions we received, our future is in the hands of very passionate and talented individuals. Once again, it was truly a privilege to invest in these students' futures through this collaborative grant program with Massage Envy," stated Lynda Solien-Wolfe, Vice President Massage and Spa, Performance Health.
The following people were the grant winners for 2016:
Jessica Dunn, AR Therapeutic Massage Institute, Hot Springs, AR
Cassandra Herrera, Academy for Massage Therapy Training, San Antonio, TX
Sadie Robinson, North Country Community College, Saranac Lake, NY
Andrew Steigmeier, Finger Lakes School of Massage, Mount Kisco, NY
Lydia Tovar, American Career College, Long Beach, CA
Andrew VanDeusen, National Institute of Massotherapy, Akron, OH
Whitney Waugh, Colorado School of Healing Arts, Lakewood, CO
Audrey Wood, Bellus Academy, Poway, CA
"At Massage Envy, we know regular massage is not a luxury, but an integral part of a well-rounded wellness routine, with proven power to reduce stress and help people heal. That's why the brand is committed to creating opportunities for professional massage therapists and to helping them build rewarding, long-term careers," added Rick Boden, Director of Employee Brand Engagement, Massage Envy.
"Thank you to all the students and schools who participated this year. The 750+ applications represented 294 massage therapy schools and/or programs," concluded Ms. Solien-Wolfe. "Because of this overwhelming response, I'm pleased to announce we will be implementing the program again in 2017.