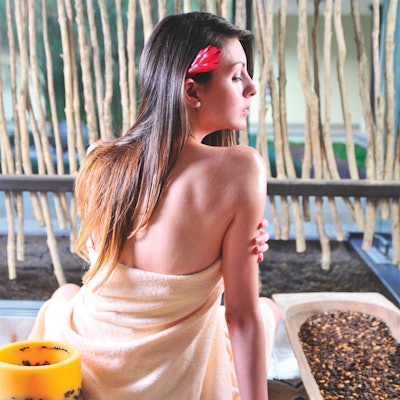 These coffee-based spa treatments have clients feeling full of beans during the holiday season.
Where better than Costa Rica—one of the world's major coffee-producing countries—to indulge in a java-infused treatment? Set on a 30-acre coffee plantation, the Costa Rica Marriott in San Jose is home to the Kuö Spa. Here, guests can enjoy the signature Costa Rican Coffee Scrub (50 min./$110), featuring ingredients so local, they're sourced directly from the plantation. "Kuö Spa is situated on the grounds of an old Spanish hacienda surrounded by coffee plants, which allows us to pick the coffee beans and process them carefully to keep their essence," explains spa manager Cesar Sanchez. The scrub is designed to make full use of the beans' antioxidant properties to reduce the appearance of wrinkles and cellulite, and leave the skin rejuvenated and revitalized. Says Sanchez, "Guests love the treatment's immediate and noticeable effects. It helps to restore the skin's natural tone and glow, lending a youthful and fresh appearance."
Local beans also take center stage in another tropical coffee-producing region, Hawaii. The oceanfront Moana Lani Spa in Waikiki, Oahu, offers the Kona Coffee & Vanilla Facial (80 min./$195). Incorporating Hawaiian Kona coffee, Kauai clay and vanilla, the experience kicks off with an invigorating back ritual using a mocha java scrub, followed by a facial massage with warm pohaku (stones), aimed at detoxifying and purifying the skin from the effects of free radicals and environmental stresses. To finish, instead of a cup of joe, guests imbibe a shot of antioxidant-rich KonaRed, made from the fruit of the coffee plant, or a relaxing Hawaiian elixir. "Here at the spa we believe in promoting wellness by using local traditions and ingredients," shares Shannon McAneeley, the spa's sales manager. "Our clients love this treatment because it is locally inspired, suitable for all skin types and, most importantly, results oriented… It's a decadent and relaxing experience."
It doesn't produce coffee, but Seattle is synonymous with the bean, thanks to its booming café culture. At the spa at the city's Four Seasons hotel, the Espresso Mud Pedicure (60 min./$85) features not just a caffeine fix but also a hot toddy of sorts. Clients sink their feet into a bourbon vanilla soak, which is followed by an espresso mud scrub and an application of a warm seaweed serum. Next, they don warm booties and are given a leg and foot massage using peppermint lotion. The service ends with polish or buff. "The Espresso Mud Pedicure is by far our most requested fall and winter foot treatment," explains Jessica Gustelius, lead nail technician. "Guests often dub it a 'fresh pot of coffee' or a 'warm winter snuggle'—it's soothing yet completely refreshing." So for anyone feeling put upon by the demands of the season, this will literally help them keep their feet on the grounds!
—Lesley McCave