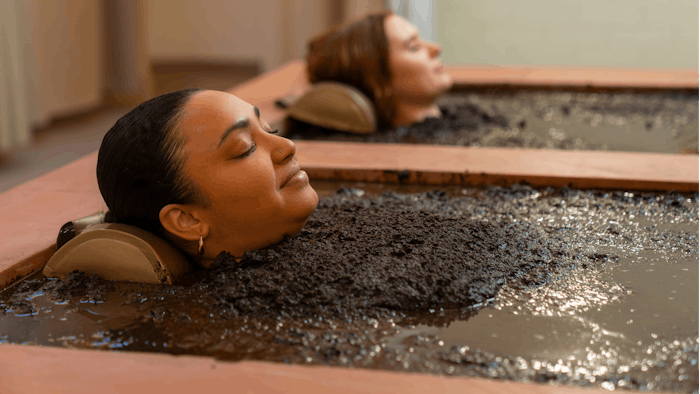 Courtesy of Mark Compton
The focus on health and wellness is still on the rise, see how these properties are staying in the loop with their wellness offerings. 
Stretch Zone has opened its first studio location in New York City. Stretch Zone offers practitioner-assisted stretching to guests, using a patented strapping system that expertly positions, stabilizes and isolates muscles to allow for optimal stretching. Each stretch is customized to fit the specific needs and preferences of the individual, regardless of age or athletic ability. 
Stretch Zone plans to add new studios in Philadelphia and Seattle, as well as a Baton Rouge, Louisiana, location co-owned by NFL veteran quarterback, Drew Brees.
Dr. Wilkinson's Backyard Resort & Mineral Springs has reopened its mud baths after a multi-million dollar renovation. The reimagined spa features four massage rooms, an outdoor spa garden for al fresco treatments, four indoor mud baths, seven indoor mineral baths, two outdoor mineral baths, cold deluge shower and a geothermal mineral pool filled with calming, varied temperature water sourced from Calistoga's natural healing springs.
Dr. Wilkinson's mineral waters are classified as distinctive, neutralizing, balancing waters with the ability to strengthen skin, balance the peripheral nervous system, reset stressed nervous systems, hydrate and detoxify. Standout treatments offered at the property include:
The Works: A

 mud bath treatment, facial mask, aromatic mineral whirlpool bath, steam room, blanket wrap and 30-minute massage.

Body Brew: A 

mineral whirlpool bath treatment with fresh hops, dry ale yeast, malt, barley and a local beer on the side.

S

ound Therapy Treatment: A 30-minute session d

esigned to achieve a balance of relaxation and revitalization. 
The new Leaf Spa at Hotel AKA Brickell offers guests a variety of holistic treatments for the mind, body and soul. Leaf Spa incorporates elements of nature throughout all offerings, including massages, body treatments, facials and more.
Spa highlights include: 
Alchemist Bar

 where guests can use healing herbs, plants and more to make personalized oils, scrubs and tinctures for home care. 

Wish Tree, a 

traditional, local and indigenous symbol of hope. Leaf Spa's wish tree allows guests to remember that everything starts with a dream. 

House of Knowledge, a

 gallery wall of naturally healing plants, herbs and leaves from around the world.  

Seasonal Spa Treatments for every 

time of year. In Spring, guests can enjoy

The Botanical Booster Facial

that is rich in enzymes and antioxidants to help even out the skin and promote antiaging; or

The Floral Flow Massage

that uses Rose aromatherapy to help elevate energy levels. 
Signature treatments include:
Lavender Lymphatic Massage, which 

encourages movement of lymph around the body to remove waste. The treatment is also infused with lavender to help detoxify with ease. 

Vibrant Vichy Body Treatment,

 a luxurious water therapy that detoxifies, hydrates and intensely relaxes, combined with a reiki scrub to help align chakras.  
Redmint opened its second San Francisco wellness and experiential retail space. Its skin care, wellness remedies and restorative treatments harness Traditional Chinese Medicine (TCM) to create holistic rituals.  
Redmint's services balance the mind-body connection and help with pain and inflammation, insomnia, stress, digestion, headaches, hormone imbalances and more. The new space features 10 treatment rooms, an herbal bar, private event area and a large outdoor courtyard deck with twisting vines, foliage and unique tumbleweed art. 
Offerings include:
Face Glow

 and 

Body Acupuncture

 that activate the body's innate life force, or qi. 

Gua Sha Facials

 help increase circulation and detoxification of the skin.  

Lymphatic Drainage,

 a gentle, rhythmic body treatment that aids detox and rehabilitation, while

 Lightstim LED Therapy 

addresses pain and tension relief.  

Sound + Deep Tissue Therapy

 integrates tuning forks to relieve soreness and pain. 

Microcurrent Facial

 uses gentle microcurrent to tighten and lift facial muscles.  

Herbal

 

Bar

, a modern twist on the traditional coffee bar, offers a variety of herbs to support multiple aspects of health. It includes a proprietary menu of herbal lattes, shots and teas.