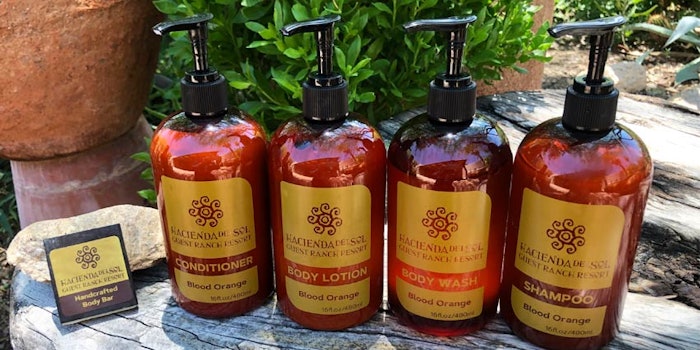 Courtesy of Body Bliss
Body Bliss International Aromatherapy announced a collaboration with Hacienda del Sol on bespoke resort amenities, spa back bar and retail products.
Related: Body Bliss Wins Makeover of a Lifetime
Body Bliss' product development team developed full-size custom amenities in a signature blood orange essential oil blend for the resort based in Tucson, AZ. The gift shop carries the full private label retail collection.
 A fitness center and lap pool have recently been added, and a recently purchased home adjacent to the property is being remodeled into a spa. A wide range of massages and facials are currently offered in three private treatments.
Jill Clark, resort general manager, said, "We knew the partnership would be a 'slam dunk.' Most of our guests insist on a wellness component to their vacation. People want a personal experience. All our spa providers love the products, and our guests are buying retail products like crazy!"