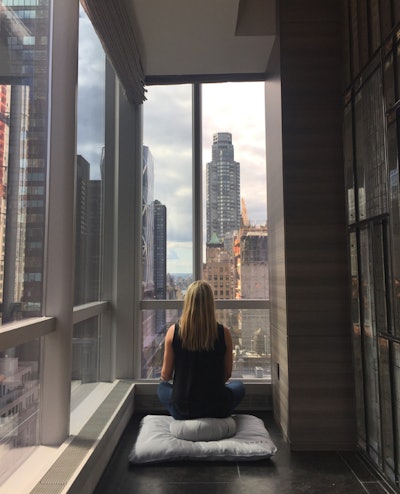 MNDFL, New York City's premier meditation studio, will partner with Park Hyatt New York to bring private and semi-private guided meditation sessions to help guests relax and recharge. Hosted in dedicated meditation spaces within Spa Nalai, Park Hyatt New York's atelier spa located on the 25th floor, all group meditation experiences will be led by MNDFL's acclaimed instructors who are also available to lead private sessions within the comfort and privacy of a guest's room.
Beginning October 1st, weekly 45-minute meditation sessions will be available to guests to help them relax and replenish. Offering one session in the morning and two in the afternoon, each session begins with a brief introduction by a MNDFL instructor followed by a guided practice and concludes with time for instructors to address any questions. All sessions include a complimentary food pairing created by the culinary team at Park Hyatt New York and inspired by the "living wall" at MNDFL's downtown studio.
"At Spa Nalai, we recognize the importance of holistic wellness as we continue to support our guests' journey towards serenity," stated Amy Olthoff, Spa Director for Spa Nalai. "Offering meditation sessions as part of our ongoing spa menu further solidifies our commitment to our guests' wellbeing of both their mind and body, both in a group setting as well as private setting to suit their individual needs."
To further promote wellness of mind, body and spirit, Spa Nalai will offer guests the opportunity to complement their meditation practice with the addition of one of Spa Nalai's artisanal treatments at a promotional rate. Prices for guests seeking a private meditation experience start at $225 with a complementary spa treatment offered at an additional $25 for a total promotional rate of $250. Prices for a single group meditation session start at $30 which includes access to Spa Nalai's amenities.