Silverado Resort and Spa
in Napa, California.
Once temperatures begin to rise, clients' schedules start filling with outdoor activities, and spa owners need to get creative if they want to convince their guests to come indoors to relax and recharge. "Services offered for a limited time are an immediate call to action," says Jacquee Thompson, spa director at SiSpa at the Fort Lauderdale Marriott Pompano Beach Resort in Florida. "They require clients to book now. If the treatment is on the menu for too long, people won't be motivated to try it."
RELATED: The Amazing Benefits of Using Calendula
Aligning seasonal treatments to your immediate environment can be crucial. For example, the Silverado Resort & Spa's Meyer lemon tree serves as a vital resource for one of the spa's most popular seasonal services. "When our tree is producing fruit during the summer, we offer a Meyer Lemon Salt Glow, which provides the uplifting benefits of our citrus, chamomile and aloe vera body scrub blend," says Bordeaux-Johlfs.
Similarly, the team at the Omni Mount Washington Spa in Bretton Woods, New Hampshire, factors in the property's scenic backyard when planning its summer menu. "We're surrounded by natural elements like rivers and mountains, so we try to incorporate nature into our treatments and bring the outdoors in," says spa director Jesse Tyler. Every year, Tyler and her team research artisan ingredients that can be infused into treatments. Past offerings have included services featuring locally harvested honey and candytuft, a flower specific to the Bretton Woods region.
Holidays can also serve as inspiration. "We like to give guests something festive to celebrate the seasons with," explains Bordeaux-Johlfs. "That's why we offer services under the theme 'Red, White and Blueberry'—including the Strawberry Sprinkle Body Treatment (50 min./$135)—to tie in to the resort's annual 4th of July celebration."
RELATED: Spa Therapies Inspired by Centuries-Old Native American Rituals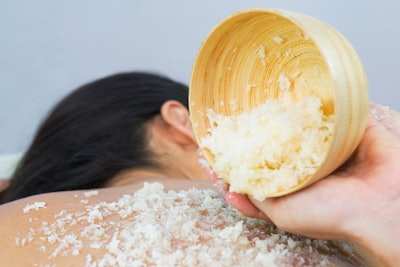 Capitalizing on the exotic vacation concept is another approach, especially if your spa caters heavily to locals. "We live in a constant state of summer, but Floridians like to have seasons distinguished, so that's a consideration," says Thompson. "We take that tropical getaway angle and highlight treatments with ingredients like mango, guava and coconut." The spa's Coconut Mango Firming Body Wrap has become a summer favorite among locals, she reports.
To spread the word on the spa's seasonal offerings, Thompson runs promotions. "We sometimes offer $50 off to patrons who present a Florida ID," she says. "During slower periods, like the last weeks of August, we draw in locals with 50 percent discounts on our more expensive treatments. We also use hyperlocal platforms such as Living Social and Groupon."
As for pricing these protocols, Tyler avoids reinventing the wheel. "We start by comparing them to a similar item on our existing menu," she says. "We consider how much time and how many products and tools are involved. Are they scarce resources? How many therapists can actually perform the service? The more specialized and involved the treatment, the more expensive it becomes."
From the Menu
Coconut Mango Firming Body Wrap: This treatment envelops clients in the ultimate tropical getaway. Skin is first double-exfoliated with a coconut sugar scrub and mango wrap, which features active enzymes and vitamins to hydrate skin and gently slough dead cells. The service is finished with a firming lotion infused with coconut, shea butter and grapeseed oil, so skin is left more taut, supple and deeply moisturized. The longer protocol includes a relaxing 25-minute massage. (50-80 min./$99-$150) SiSpa, Fort Lauderdale Marriott Pompano Beach Resort, Florida
Summertime Sweetness Pedicure: Enhance your classic pedicure with a seasonal treatment that's the bee's knees. Feet are first immersed in a soothing footbath, then dried, exfoliated and hydrated using the locally sourced Beeline Bee Heeled foot scrub and Beeline Bee Silk moisturizer. The session ends with expert nail shaping and polish. (50 min./$80+) Omni Mount Washington Spa, Bretton Woods, New Hampshire
Meyer Lemon Salt Glow: Harness the rejuvenating powers of lemons with a body treatment that will leave skin positively glowing. The service begins with a full body exfoliation using a proprietary concoction of sea salt, olive oil, locally sourced lemon juice, lemon essential oil and aloe vera. The skin is then cleansed with Olivina Meyer Lemon Body Wash and slathered in Olivina Meyer Lemon Hand & Body Moisturizer. While the body is absorbing the product, a foot and scalp massage is performed using chamomile essential oil. The longer session includes a body massage. (50-80 min./$135-$195) Silverado Resort and Spa, Napa, California
–by Angela Melero
You're well aware that keeping your spa menu fresh and cutting edge is no easy undertaking— there's always a new technique to master or trend to follow. And no matter how reputable your signature treatments are, you need to continually stimulate and engage your customers if you want to secure their loyalty. For this reason, seasonal treatments are essential for ensuring your spa menu is front and center in clients' minds. "These rotating services generate excitement and added value for your guests," says Suzy Bordeaux-Johlfs, spa director at