Kimpton Seafire Resort + Spa
 became the first new hotel to grace Grand Cayman in a decade, and the first spa owned and operated by the boutique property group. Spread over 8,500 square feet, The Spa at Seafire offers a co-ed, indoor-outdoor garden retreat with a Jacuzzi and waterfall, a relaxation lounge, a hammam, a hair salon, five treatment rooms, two couples' suites, four nail stations, and men's and women's locker areas with steam rooms. Inspired by its stunning Seven Mile Beach location, the space blends a palette of Caribbean blues with aquatic touches and Caymanian design—the lobby's magnificent dropped chandelier is strung with handcrafted wooden beads and sparkling sea glass from nearby beaches.
RELATED: Professionals Choice Awards: Skin & Face Winners
The spa's quartz sand table is the only one of its kind in the Cayman Islands. "Quartz has become a popular healer," points out spa director Javana PhillipsBroad. Guests who dream of a restorative rest can book a Beach Break "Caymanian nap" (30 min./$95) on the heated table. Another hit in this series of firsts: a domed Turkish hammam that dazzles with 93,528 mosaic tiles.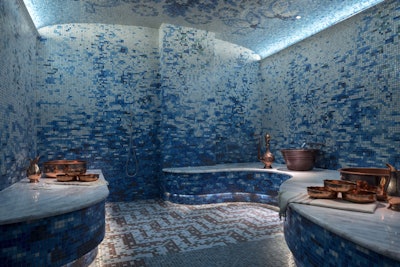 Signature Service: Both signature spa treatments happen in the hammam. During the Purification Hammam Journey (120 min./$350), therapists use a traditional Kese mitt to cleanse the body, volcanic ash soap to exfoliate and marine-silt mud to mineralize the skin, then perform a scalp and full body massage. The Beauty Hammam (120 min./$350) doubles down on exfoliation, buffing the body with a Kese mitt and a tea-infused apricot oil bamboo scrub, followed by the application of a rhassoul clay masque, then a ylang ylang and jasmine scented balm massage.
–by Marina Kay
Last November,