Mandapa
— Sanskrit for "temple"—is part of the upscale global
Ritz-Carlton Reserve
portfolio. The deluxe property boasts a spectacular setting among paddy fields next to the Ayung River, and sets a high bar with service, from the striking of a traditional Balinese gong that marks visitors' arrival to the provision of a personal butler for guests.
Mandapa's holistic spa and wellness options are based on six pillars—Balinese Spa, Detox, Nutrition, Alternative Therapy, Body Therapy and Healing. Each ceremony begins with a welcoming foot ritual and concludes with the serving of a signature infusion. Balinese culture features prominently: Native practitioners, who are said to work with divine energy, utilize age-old techniques to promote mental and physical well-being, and local specialists host classes in astrology, art therapy and more. Further top-notch facilities include a riverside yoga pavilion, where Yogi Ketut Bandiastra teaches the PranaVayu style of yoga.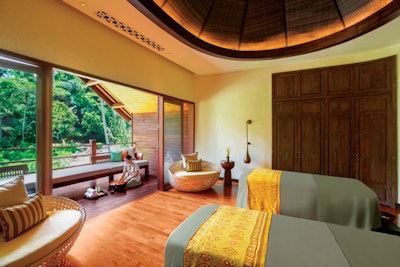 Spiritual treatments are the highlights here. The Intuitive Reading with wellness counselor and healer Rini Soe (90 min./$140) aims to resolve trauma by way of palm reading, oracle cards, healing flower essences and essential oils, and the Aromatherapy Anointing Oil Therapy (120 min./$185) eases muscle discomfort using the ancient method of anointing. According to spa director Dwi Santini, spa visitors appreciate these offerings' authenticity. "Employing local practitioners enables our guests to experience the unique healing distilled from the depths of ancient local cultural practices," she says.
–by Lesley McCave
Located on the Indonesian island of Bali,