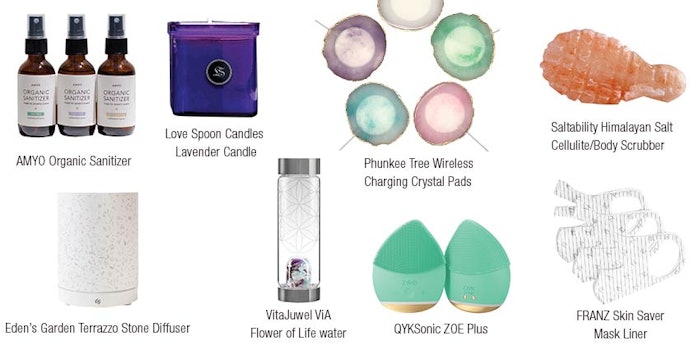 1. AMYO Organic Sanitizer kills 99.9% of germs and bacteria. Specifically formulated to be jewelry-safe, the hand sanitizer spray is available in three scents: Lavender, Tea Tree and Sandalwood. 
2. This hand-poured Love Spoon Candles Lavender Candle is made with soy wax and pure essential oils for a calming fragrance. The jar is recycled glass, and the candle has a burn time of 50 hours. 
3. Phunkee Tree Wireless Charging Crystal Pads look like agate crystal with gold trim, so they double as a chic piece of spa-like decor when not in use. Compatible with Apple and Samsung devices. 
4. The Saltability Himalayan Salt Cellulite/Body Scrubber imparts minerals and alkalinity to the skin as it gently exfoliates for a smoother, more youthful look. Ideal for addressing cellulite on the thighs, outer arms, stomach and upper legs. 
5. Eden's Garden Terrazzo Stone Diffuser is artisan handmade using natural materials and features clean, simple lines for any decorative scheme. Its 130 ml capacity allows it to deliver aromatherapy throughout larger spaces. 
6. The VitaJuwel ViA Flower of Life water bottle is etched with the ancient symbol of the flower of life and includes a blend of amethyst, aquamarine and clear quartz crystals, which impart healing, purification, inner wisdom, clarity and peace. 
7. Made with antimicrobial silicone, QYKSonic ZOE Plus helps improve skin health by cleansing, exfoliating, providing firming and circulation massage, and gently penetrating products to maximize absorption. 
8. The reusable, antimicrobial FRANZ Skin Saver Mask Liner acts as a barrier between skin and PPE or other face coverings, keeping it dry while killing bacteria. An infusion of aloe vera delivers extra soothing benefits.