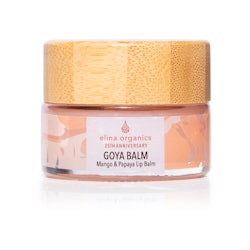 Elina Organics GOYA Balm is an organic lip balm that fuses organic papaya and mango with vitamins and hydrating ingredients to pamper and protect the lips. It is formulated with a multitude of nutrients for deep lip hydration, UV protection and fuller lips.
Packed with enzymes like papain, papaya gently exfoliates dead skin cells, unveiling softer, smoother lips. Rich in vitamins A, C, and E, papaya offers antioxidant protection, combating free radicals that contribute to premature aging. These vitamins also aid in brightening the lips' natural hue, imparting a vibrant and healthy appearance. The papain enzyme also helps to naturally lighten dark spots, leaving your lips even toned and radiant.
Bursting with vitamins A and C, mango works wonders in rejuvenating and revitalizing your lips. Vitamin A promotes cell regeneration, helping to heal chapped and cracked lips. Vitamin C stimulates collagen production, ensuring your lips remain plump and youthful. Mango also contains beta-carotene, a natural sun protectant, shielding your lips from harmful UV rays and preventing sun-induced damage.
"Crafted with care using the finest organic papaya and mango extracts, this lip balm is your ultimate solution for beautifully moisturized and nourished lips," said Elina Fedotova, founder of Elina Organics Skincare & Spas. "This new Goya Balm is the same great feel and nourishment as our popular Cappuccino Balm but now in delicious all-natural papaya and mango extract."
Main Benefits:
Organic Ingredients: Made with pure organic papaya and mango extracts, free from harsh chemicals and additives.
Deep Hydration: Rich, nourishing formula provides lasting moisture, preventing dryness and discomfort.
Natural Radiance: The blend of vitamins and nutrients promotes healthy lip color and texture.
UV Protection: Beta-carotene shields lips from sun damage, keeping them safe and sound.
Delightful Aroma: The irresistible tropical scent of papaya and mango indulges your senses.
Key Ingredients:
Vitamin A: Supports cell turnover for smooth, healthy lips.
Vitamin C: Boosts collagen production, providing youthful elasticity.
Vitamin E: An antioxidant powerhouse that guards against environmental stressors.
Papain: An enzyme from papaya that exfoliates and lightens lips.
Beta-Carotene: Offers natural sun protection and enhances lip health.