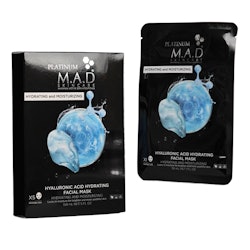 M.A.D. Skincare's M.A.D Platinum Hyaluronic Acid Hydrating Facial Mask is a 3D film paper sheet mask specifically formulated to hydrate skin and lock in moisture for a brighter, more supple complexion. The mask provides skin with much-needed moisture and aids in enhancing elasticity while improving skin texture and increasing hydration for immediately plumper, radiant, younger-looking skin.
Key Ingredients:
Hyaluronic Acid is the main component that gives skin its structure and is responsible for the skin's supple, hydrated look. Hyaluronic Acid effectually magnetizes and binds moisture, delivering the necessary hydration skin needs for reviving and maintaining a radiant complexion.
Tremella Fuciformis Sporocarp Extract provides extremely effective hydrating and plumping properties. Rich in polysaccharides, it's beneficial in stimulating skin's collagen synthesis, helping boost skin elasticity and minimizing the appearance of fine lines/wrinkles. Antioxidant properties aid in preventing free radical damage and helping repair and prevent premature aging.
Stephania Tetrandra Root Extract conditions the skin and provides soothing properties. Ideal for helping dry skin, targeting signs of aging and inhibiting inflammation and irritation. Along with its anti-inflammatory effect, Stephania Tetrandra Root Extract helps in increasing skin comfort and attacks free radicals to improve skin function.