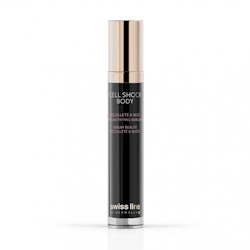 Swissline by Dermalab Cell Shock Body Décolleté & Bust Beautifying Serum is designed to immediately tighten and address the texture and density of the décolleté area, including that of the bust. The serum firms the skin and provides density and smoothes the surface for a less dry and creased appearance
It is formulated with a minimal number of active ingredients (marine collagen and marine elastin) to respect the fragility of these areas, as well as to guarantee the safety factor since it is intended to apply to the bust. It is an ideal home-use product following professional treatments performed by doctors or beauticians.
How to Use:
Apply a bit of the product around the breast, making enveloping movements upwards in the direction of the décolleté.
Apply also on the décolleté, and on the sides of the bust (from the back to the front).