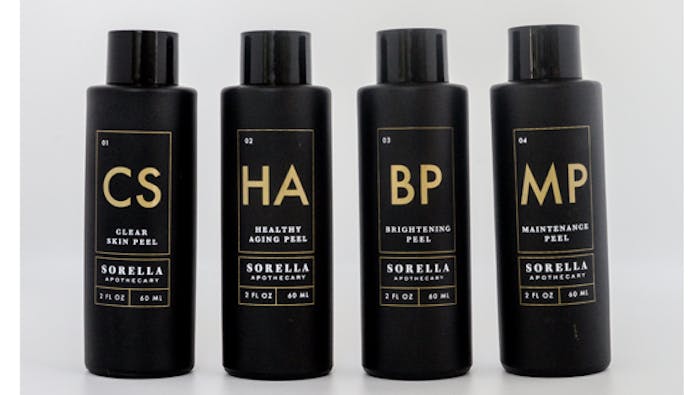 Courtesy of Sorella Apothecary
Sorella Apothecary has launched its Chemical Peel Collection of four professional peels for spa backbar, each one targeting specific skin concerns.
The Chemical Peel Collection:
Maintenance Peel – A smoothing, brightening and hydrating skin pick-me-up.
Clear Skin Peel – Heals existing blemishes and prevents future breakouts while reducing post-inflammatory hyperpigmentation. 
Healthy Aging Peel – This TCA peel stimulates collagen production, softens fine lines, and improves tone and texture. 
Brightening Peel – Evens out skin tone and texture while reducing inflammation and redness for the perfect glow. 
"This collection has been in the works for over two years. We previously had one peel that was amazing but we wanted our partners to have the ability to further customize their treatments for their clients. In addition, we added The Prep and The Boost to enhance results," said cofounder Emily Sindlinger. 
The Chemical Peel Collection is available exclusively to Sorella Apothecary partners and comes with an education course that covers peel theory and application.