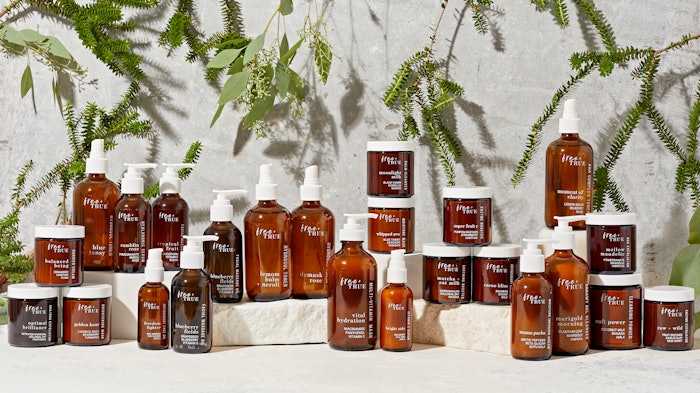 Photo Courtesy of Free + True
Free + True has launched a new professional back bar collection called Nature + Nurture that contains 18 facial and body products for various skin types, ethnicities and ages, with two new launches reportedly in the works.
The formulas combine traditional herbalism with cutting-edge, clean science that is results-driven for all skin types, ages and complexions. According to the company, 50% of its botanicals are sourced locally from small, California growers. The company processes these fresh botanicals in-house before manufacturing the products in small batches to maintain the highest level of quality and freshness.
Free + True's team consisting of a chemist and estheticians drive their research and product development to meticulously craft this diverse range of back bar formulations that can be customized to provide elevated treatments for your clients while effectively addressing their skin care concerns. 
Collection Highlights:
Encompasses 18 products with two new launches in the works
Products are formulated for various skin types, ethnicities, and ages
The collection is fully customizable allowing estheticians to provide elevated treatments while effectively addressing client's skin concerns
Features a synergy of traditional herbalism and modern actives ensuring your clients experience highly effective treatments tailored to their skin type. 
Related: Bodyography's Spa Products Collection Brings the Spa Experience Home