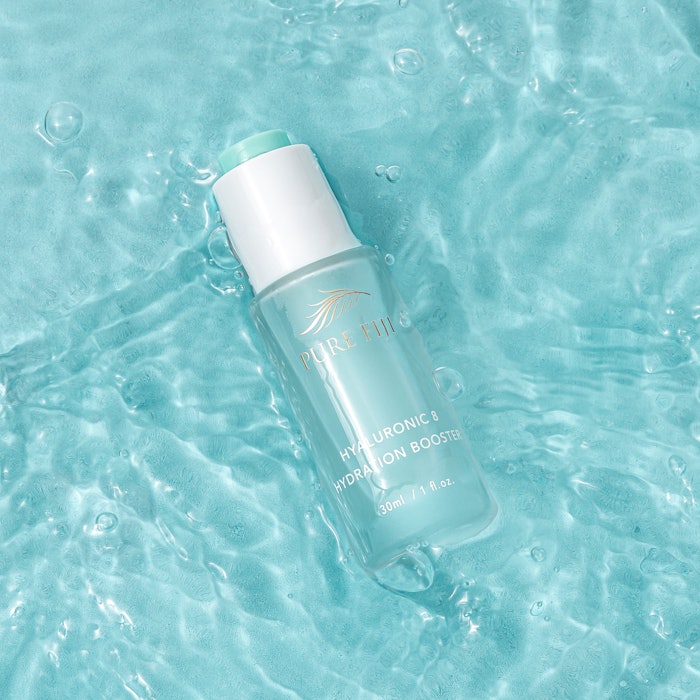 Pure Fiji's Hyaluronic Booster contains a lightweight formula that is enriched with eight targeted forms of hyaluronic acid, plus hydrating Ngi grass and plant collagen, pluming the skin's surface. 
With continuous application, Hyaluronic Booster can stimulate skin to produce more hyaluronic acid for deeper moisturization and younger looking skin. 
Ingredient Highlights
Eight forms of hyaluronic acid holds 1,000 times its weight in water. The product instantly plumps the skin's surface in seconds and improves skin barrier function. Hyaluronic acid helps skin to stretch and flex (providing skin with ample plumpness and 'bounce'). The ingredient reduces fine lines and is also proven to accelerate wound healing faster and reduce scarring. The unique formula is an optimized ratio of eight unique molecular weights range of 3,000 2,300,000 Da MW) of sodium hyaluronate, providing maximum moisturization to the skin.
Ngi grass creates an ample water supply in the skin and maintains moisture levels for 24 hours. Ngi grass root extract optimizes and reinforces collagen synthesis and deeply protects the skin.
Plant collagen improves the appearance of skins superficial fine lines and skin texture, restoring a youthful glow.