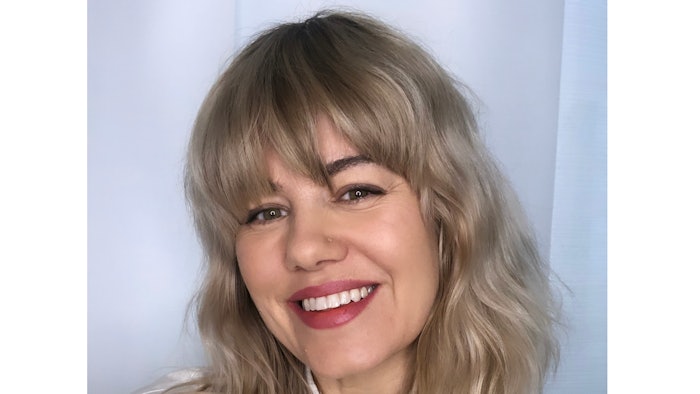 Creating natural beauty is the center point of my work. Being a celebrity makeup artist for more than 20 years, I've built a reputation on clean, minimalist beauty. I'm also a permanent makeup artist and educator. I teach micropigmentation and microblading at my studio Contour + Ink in Beverly Hills, and I offer online training in advanced techniques for hyperrealistic cosmetic tattoo enhancements. I'm always on the lookout for new products and technology to enhance my work and the healing process for my clients. 
I'd like to share a game-changing moment in the evolution of my cosmetic tattoo procedures and my own skin care. A colleague of mine introduced me to LED light therapy and it has since been an essential tool in my studio. She brought her Celluma PRO LED device to use after my microchanneling treatment. As is normal with these types of treatments, the procedure left my skin bright red with pinpoint bleeding, feeling sunburned, tight and slightly swollen. Once she placed the LED panel over my face, I felt like I was transported to the future. After 15 minutes, the pain and tightness had diminished, and after 30 minutes the redness was also gone. I looked like I had just stepped out for a walk! My skin was bright and rejuvenated. The LED panel was very effective in reducing the pain and trauma my skin had just experienced, and from that point on, I started to research the benefits of LED light therapy and how I could incorporate it into my procedures.
I purchased a Celluma PRO, which I found to be the most versatile and medically tested LED panel on the market. In my research, I also found Celluma to be one of the most award-winning LED panels on the market and really regarded as the esthetician's choice. Many have discovered its benefits and use it as an add-on or following peels, microneedling, microdermabrasion, injections and more. Celluma is a versatile, three-in-one device that treats acne, wrinkles and pain. Its unique and flexible design facilitates close positioning to the treatment area, a feature which greatly optimizes outcomes. It's hands free, affordable, results driven and available in 11 models, including battery-powered and full body options. And with all of the new requirements related to practicing in the era of COVID, the face shields and hygiene barriers Celluma offers have really afforded my clients peace of mind.
The success of cosmetic tattoo procedures depends upon the ability to deposit pigment into the top of the dermis with a minimal amount of trauma. There's an inherent risk of scarring, hyper/hypopigmentation and poorly healed results when the skin has been overworked or doesn't function well to begin with. Skincare professionals rely on gentle techniques and careful aftercare to achieve optimal results, but there's still a lot of pigment lost in the healing process. For me, Celluma is an essential step in preparing the skin for these types of invasive procedures and to optimize the healing process afterward. It can enhance skin health at a cellular level, which results in less inflammation and optimal cell performance, and it helps prevent potential problems that arise when working with traumatized skin. I'm now incorporating LED therapy into my training programs, and I use the device as a part of my own antiaging skincare regimen. My clients report shorter downtimes and less post-procedure discomfort, and they feel more confident and pampered. The results continue to speak for themselves and I couldn't be happier to have something so valuable, not only for me but for my clients.
Celluma light therapy is my choice and I couldn't be happier. I recommend my fellow practitioners check out the various models to decide which one is right for them. All machines come with a 2-year warranty, a vast amount of educational and marketing material, and a dedicated clinical specialist to support you thought the process of practice integration as well as tips for use.