With the world's water supply dwindling, spas must make changes to effectively lower their consumption of this precious resource.
–Tracy Morin
Spa is Water
The word "spa" is derived from sanus per aquam—"health through water." But while this may have meant designing luxurious bathhouses and hydrotherapy treatments in years past, owners today face a different quandary. As supplies of water dwindle, how can the industry reduce its usage and become true leaders in "health through water"—not only for clients, but for the environment? In this DAYSPA web exclusive, we speak to experts in the industry to examine the issues we face and how spas can become part of the solution.
A Changing Water Supply
Michael Stusser, principal at Osmosis Day Spa Sanctuary in Freestone, CA, attributes today's water shortage crisis in part to rapid shifts in supply and demand, and to our water supply being tainted by techniques such as fracking, a natural-gas extraction method that can compromise the safety of groundwater. "Our planet's water supply seriously jeopardized right now; water quality and quantity is diminishing at a rapid rate," Stusser states. "Whether governments or private companies manage this resource, the cost to do so will be astronomical."
Tom Porter, founder and president of Mailbu C at Malibu Wellness in Malibu, CA, has had his eye on this issue for years, and feels that spa owners in particular should take notice. "These challenges already exist, yet most owners are just waking up to the reality of how the issue is affecting their services and clients," he says, especially when it comes to the makeup of the water itself. "In drought conditions, when water becomes restricted, the ratio of minerals to water increases, allowing more oxidation of minerals on the hair, scalp and skin—triggering irritations, damage and even disease of the external body," Porter explains. "Water with high concentrations of minerals, along with chlorine, is now coming into more than 80% of U.S. homes."

Changing Water Habits
A water shortage has strong economic implications for spas: the more water used in a service, the higher the cost to the owner—increasingly so as prices rise. Spa owners need to take a serious look at all their services, some of which require tens of thousands of gallons to support from a water usage perspective. Then, they need to adopt practices to cut back.
Stusser believes that spas should step away from services like Vichy showers, which can use 200 gallons of water per treatment. "We need to show leadership here instead of saying, 'This is what the client wants'," he says. "There are other ways to relax without wasting 200 gallons of water!"
Many spa owners have already put water conservation on their radar, with excellent results. At Modvellum in San Francisco, there is one shared sink for all estheticians. Each employee uses the sink to pour only the water she needs for each treatment. "If water is available in the rooms, they'll run the faucets forever," says CEO Rachel Tolve. "This approach makes them think about what they really need to use, and they're not likely to leave the room mid-service to get more water." Though Tolve admits that new technicians have to overcome the hurdle of not having water on-demand, they quickly adapt to the system.
Innovations in Water Saving
Another San Francisco spa, scheduled to open this year, is redefining the concept of the ancient bathhouse experience—which required a close look with regard to water usage. Explains the aptly named Nell Waters, founder of SOAK, "Our immediate question was, how can we address what's historically been an opulent use of natural resources? How can we reinvent the experience and size it down? And, how off-the-grid could we build?"
Waters' challenge: to buck the convention of spas being massive consumers of energy and water and consider 21st-century values of conservation instead. To achieve a smaller "water footprint", she tested sustainable concepts such as gray water filtration, which routes used water through piping and sends it to the spa's "urban meadow" for watering. She also calculated that 25% to 40% of the water needed for SOAK can be harvested from rainwater, then filtered, thanks to catchers attached to the roofs of the shipping containers that form her compound.
"The issue isn't filtering the water but rather, the capacity—how much can you store?" Waters points out. "Some cutting-edge spas are even using gray and black water to provide irrigation for their cities."
Although Waters isn't sure that technology is moving fast enough, she feels that modern showers can cut water use in half, and that any water used should be reused where possible. Modvellum spa's owner Tolve gives her water a second life on a smaller scale, using the water caught underneath hot towel cabinets to water plants in the facility. "Even the distilled water in our treatment rooms, next to the steamers, goes into one receptacle that's shared among staff," says Tolve. "Because staff have to leave the room to refill the steamer, they don't leave it running unnecessarily."
Osmosis, long a leader in environmental sustainability, has an on-site filter that removes excess minerals and chlorine from water and converts it to mountain spring quality, according to Stusser. The water is served in reusable ceramic cups instead of disposables. Also, offering showers sans chlorine helps avoid drying effects on skin. The filtering unit cost $5,000 when it was installed in 2006, but with what the spa has saved on bottled water, it paid for itself in only six months!
Water-Friendly Laundering
Spa operations such as laundering towels and linens can escalate water usage significantly. Water shortages have motivated researchers to develop new fabrics that absorb more liquid, are biodegradable or quickly recyclable, and are more resistant to bacteria, virus and yeast. Stusser recommends using laundry soaps that don't contain phosphates, which he says can ultimately pollute water supplies.
Trisha Rice, director of business development for Malibu C and owner of one of the first day spas in the U.S., in Gig Harbor, Washington, suggests that staff work together to accumulate a full load before doing laundry, and urges owners to use a water-conserving washer. Adds Stusser, "Today's available technology for laundering linens is truly amazing; machines can recycle more than 90% of water used, cleaning the water to use it over and over." He also reminds owners to install low-flow plumbing for showerheads and toilets.
Effects on Products
Porter predicts that manufacturers, like spa owners, will see increased regulation of water sending the cost of products even higher, so they too will have to learn how to use less, both in the bottle and in the manufacturing process. "Most products in the beauty industry contain more than 60% water, so this shortage will encourage more companies to find ways to make products available in a more concentrated form," he explains.
Look for companies that take the issue of water wellness seriously—and that provide education to your staff about products and what changes they're making, so they can spread the word to clients. "Water footprint is defined as both the total volume of water consumed directly or indirectly to produce the product, plus the amount of energy used to ship water around the world," explains Porter. "One gallon of water weighs more than eight pounds!"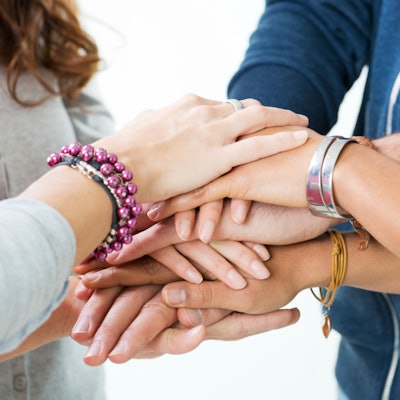 Uniting With Colleagues
Shel Pink, founder of SpaRitual in Van Nuys, California, recommends connecting with like-minded spa professionals through an organization like the Green Spa Network—"an excellent support group for the greening of the spa industry," she says. An online toolkit for the organization's members helps determine ways to be more water-conscious. Plus, networking with fellow members allows everyone to share ideas for water conservation. "No one has the complete answer to this challenge," admits Stusser, "but a number of little changes can make a difference."
Calling upon spa owners to take responsibility for how they use and maintain this precious resource, Stusser calls current water shortages an "enormous, obvious opportunity for our industry to step forward and show leadership by alerting clientele of the gravity of this issue." He points out that the industry serves our culture's most influential people, and as representatives of health, wellness, healing and vitality, it's important to spread the word to clients and help them understand what's at stake.
Greening the Spa Brand
Porter agrees that the issue of water, if positioned correctly, provides day spas the opportunity to "ride the wave," so to speak. "There are two big impacts the water shortage will have (and already has) on spas: 1) the internal impact, relating to how water is used within the business, and 2) the external impact, through new opportunities for valuable local PR. Executed strategically, media exposure in the short-term can lead to long-term, mature brand awareness for a spa throughout a community."
Porter also recommends that spa owners become agents for change for their clients and the community by branding their businesses closely with today's true meaning of the spa, "health through water." "Clients, media and the community at large will then view the owner as an influencer," he says. "The issue of water can be either a challenge or an opportunity for business owners."
The water shortage crisis can spur spas to offer a relaxing experience that's truly transformative by leading us all toward conscious use of resources. "It's entirely possible to offer every element of a luxury experience without sacrificing the environment," Stusser says. "Then clients really do feel better, because they're playing a part in environmental responsibility, and they'll adopt similar lifestyle practices back home or at the workplace. Spas' healing power can truly extend to the larger universe—healing mind, body and spirit, but also the planet."
Water Saving Bonus Tips
Day spas must take water shortages seriously and become more "water wellness-aware," believes Rice, of Malibu C. Here are her top tips for owners:
Introduce products that are concentrated with powders and crystals and use your own water to activate them. This not only provides freshly activated ingredients, but also reduces the water footprint in shipping from the manufacturer to the distributor to you.
Install an instant water heater so that nothing is wasted while waiting for water to get to the correct temperature for the service or treatment.
Update estheticians' protocols so that water isn't allowed to continuously run while beginning or ending a service, especially when lathering and rinsing.
Invest in motion-activated faucets for bathrooms, which not only save water, but improve the value of the space.