Check out our roundup of Mother's Day spa retail items!
It may seem like we've only just put away the Christmas decorations, but let's face facts: one of the most important retailing seasons is already upon us.
Mother's Day, which falls on May 10 this year, is the perfect opportunity to offer your clients an inventive and extensive array of present options—as well as the trusted spa gift card, of course! In a bid to make your search for retail marvels that much easier, DAYSPA has compiled a slideshow of crowd-pleasing spa goodies that are bound to resonate with clients seeking to impress Mom.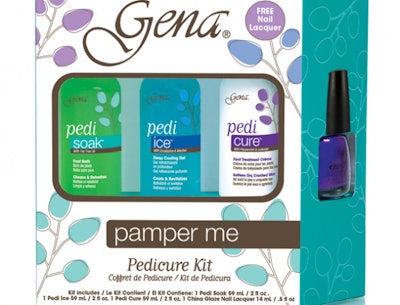 This pedi-in-a-box Pamper Me Pedicure Kit from AII's Gena includes a foot soak, cooling gel and treatment crème—plus a bonus bottle of China Glaze lacquer.
http://aiibeauty.com/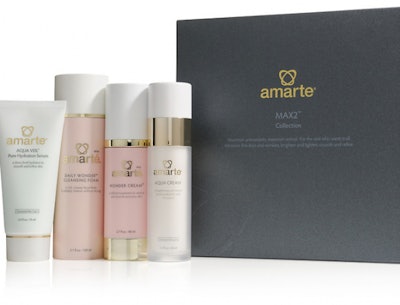 Amarte's new Max2 Collection packs a Botanical Serum, Antioxidant Day Cream, Emollient Retinol Night Cream and Cleansing Foam, plus a guide for product layering.
http://www.amarteskincare.com/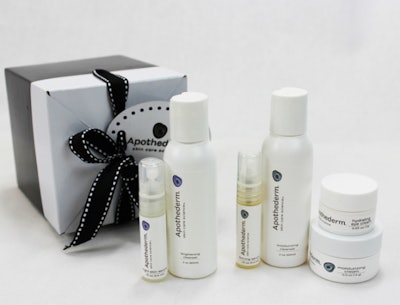 This travel-friendly, TSA-compliant Deluxe Skin Care Kit features many of Apothederm's best sellers, including the Bright Skin Serum and Hydrating Eye Cream.
http://apothederm.com/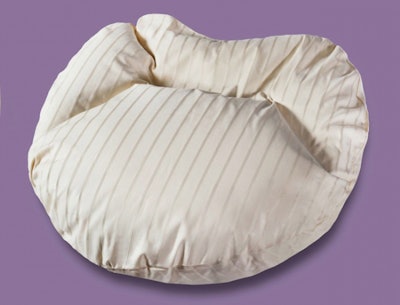 A breast support pillow designed for women who are dealing with breast cancer, the Billow Pillow provides extra relief and can double as a body, neck or side pillow.
http://www.billowglobal.com/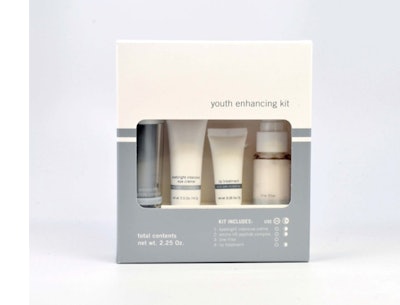 The Youth Enhancing Kit from CBI Laboratories features the brand's top sellers, including its "Botox in a Bottle" line filler, which plumps, firms and lifts complexions.
http://www.cbiskincare.com
Clairvoyant Beauty's Chocolate and Coffee Gift Set includes a cocoa-scented Bath Soak and Coffee Butter Body Scrub—a calorie-free way to indulge in her favorite flavors!
http://www.clairvoyantbeauty.com/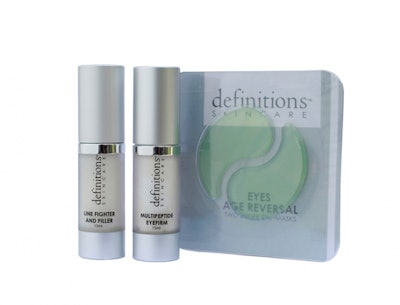 Moms will appreciate the Eye Trio from Definitions Skincare, designed to reduce under-eye dark circles, lessen the appearance of crows' feet and soothe the delicate eye area.
http://www.definitionsskincare.com/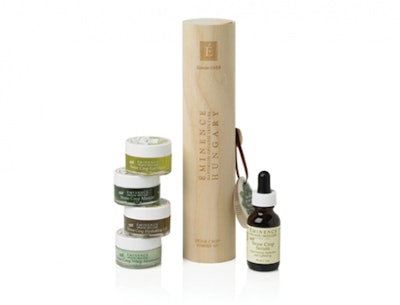 Housed in a hand-made wooden tube, the Stone Crop Collection Tube features the Serum, Gel Wash, Gel Hydrator, Masque and Whip Moisturizer from Éminence's Stone Crop range.
https://eminenceorganics.com/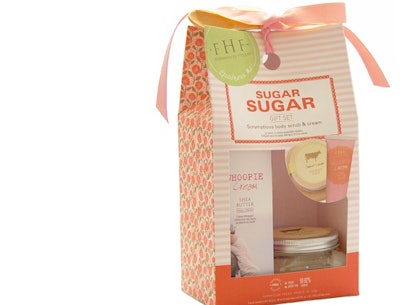 Packaged in a decorative box, complete with a wooden spoon, FarmHouse Fresh's Sugar Sugar Gift Set contains the Sweet Cream Body Scrub and a travel-sized tube of Whoopie Cream Shea Butter Hand Cream.
http://farmhousefreshgoods.com/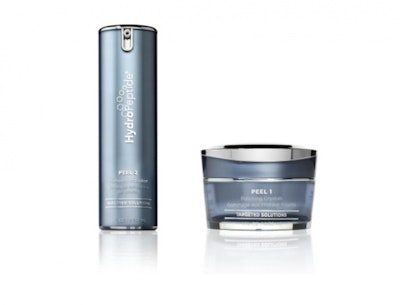 Treat Mom to HydroPeptide's Anti-Wrinkle Polish & Plump Peel Set, a weekly at-home peel that delivers peptides, oxygenating crystals and vitamin C to the skin.
http://hydropeptide.com/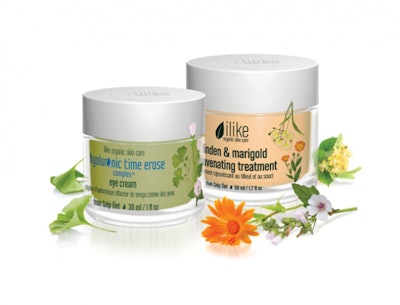 Ilike Organic Skin Care's Mother's Day Bouquet Gift Set packs a potent anti-aging duo: the moisture boosting Hyaluronic Acid Time Erase Complex Eye Cream and the Linden & Marigold Rejuvenating Treatment.
http://www.szepelet.com/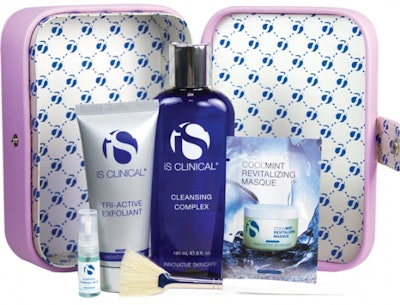 The limited-edition iS Clinical Mother's Day Kit boasts the Tri-Active Exfoliant, CoolMint Revitalizing Masque, Copper Firming Mist and Cleansing Complex, plus a fan brush and multi-use travel case.
http://www.isclinical.com/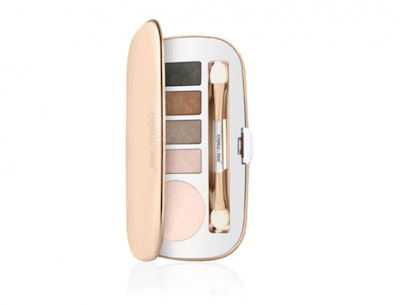 Jane Iredale's new limited-edition Getaway Eye Shadow Kit features five "Country Weekend"-inspired shades, housed in a rose gold mirrored compact.
http://www.janeiredale.com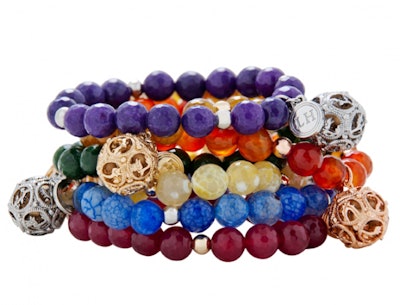 Brand new beaded offerings from the Vibrant Collection by Lisa Hoffman include Japanese Agarwood and Tunisian Neroli bracelets.
http://www.lisahoffmanbeauty.com/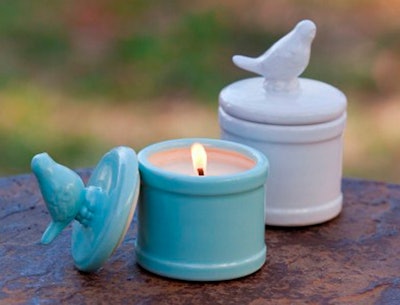 Available in Robin Egg Blue or Alabaster White, Mixture's Bird Candle Canisters are available in dozens of fragrances and convert to a reusable container when empty.
http://www.mixtureonline.com/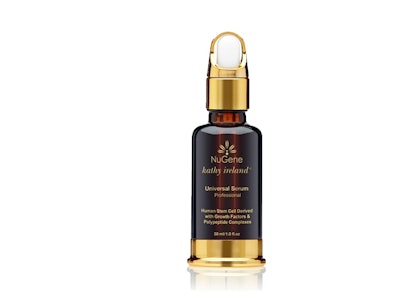 NuGene Skincare, a new line from fashion model Kathy Ireland, utilizes human stem cells derived from SCB Regenerative Technology in its Universal Serum, which lessens the appearance of wrinkles and boosts collagen and elastin production.
http://www.nugene.com/
Cozy Party, made with rosehip, apple, raspberry leaves, hibiscus, cinnamon and ginger, is one of more than a dozen healthful herbal offerings from My Beauty Tea.
https://mybeautytea.com/
The Paddywax Watercolor collection features a slew of vibrant hand-poured soy wax candles in gorgeous ombre-effect glasses and tins.
http://www.paddywax.com/
The Myoxy-Caviar Mother's Day Kit includes Pevonia's Myoxy Caviar Timeless Balm Cleanser, Repair Serum and Repair Cream, all packaged in a sleek black cosmetics case.
http://pevoniapro.com/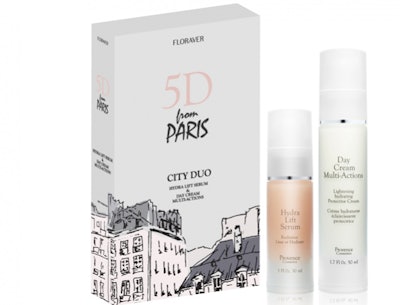 The City Duo from Provence Cosmetics includes the Hydra Lift Serum—to guard against fine lines and wrinkles—and Day Cream Multi-Actions—for UV protection that fades and prevents age spots.
http://provencecosmetics.com/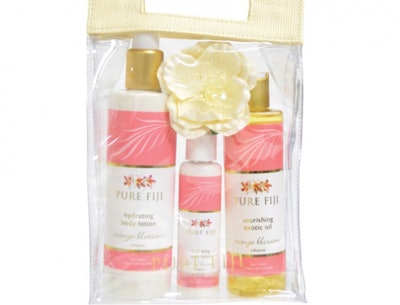 Available in a variety of tropical infusions, Pure Fiji's Floral Bag is a luxury gift set featuring a full-size and travel-size Hydrating Body Lotion, as well as a Nourishing Exotic Oil for skin and hair.
http://www.purefiji.com/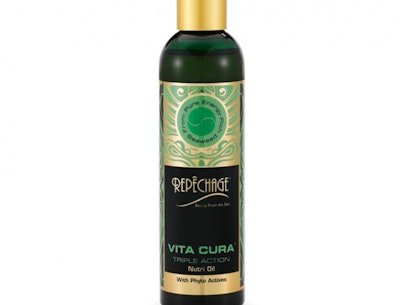 Repêchage's post-shower hydrator, Vita Cura Triple Action Nutri Oil is an exotic oil blend boosted with vitamins A and E and scented with rooibos and vanilla that help moms lock moisture into the skin.
http://repechage.com/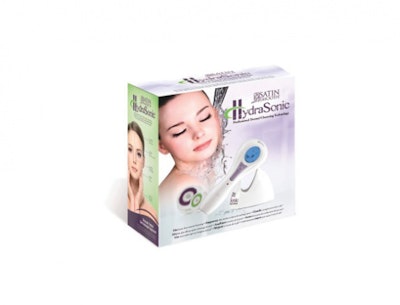 Satin Smooth's sonic cleansing facial brush comes packaged with several facial brush heads, plus the brand's Facial Cream Cleanser and moisturizer in the HydraSonic Kit.
http://www.satinsmooth.com/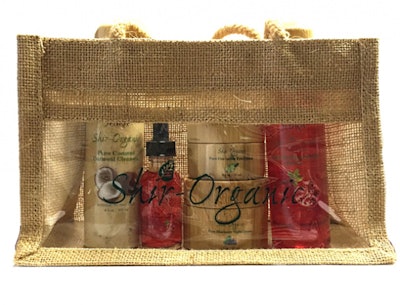 Packaged in a handy tote bag, the Shir-Organic Jute Bag is filled with Shira Esthetics' Pure Coconut Oatmeal Cleanser, Pure Pomegranate Toner, Pure Cucumber Eye Cream, Pure Blueberry Night Cream and Pure Pomegranate Serum.
http://www.shiraesthetics.com/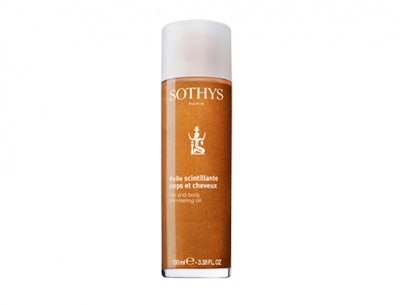 All-over Body Shimmer Oil from Sothys USA lends a golden, glistening glow to moms of all ages and skin types.
http://sothys-usa.com/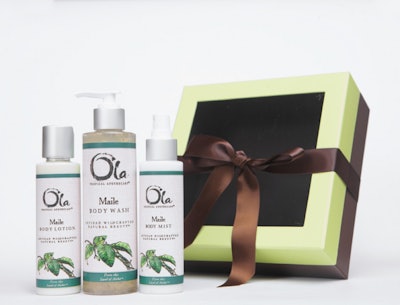 The Maile Ola Spa Revive Kit from Ola Tropical Apothecary is scented with the sweet grassy, earth-like aroma of Maile, a vine that grows throughout Hawaii and is used to make leis.
http://hawaiianbodyproducts.com/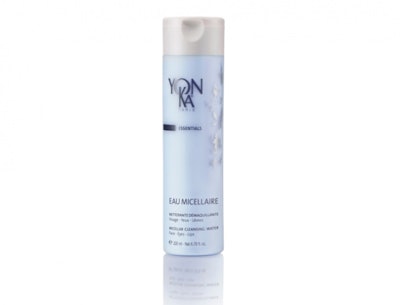 A cleansing toner and makeup remover, Eau Micellaire from Yon-Ka Paris is also an anti-aging solution formulated for all skin types.
http://yonkausa.com/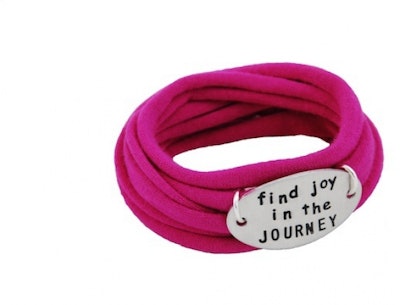 Give Mom a boost with one of Momentum's Motivate Wraps, whose pendants bear slogans such as "Live Fearlessly" and "Stronger Than Yesterday". Also available as FootNotes, which loop through shoelaces.
http://www.designsthatmoveyou.com/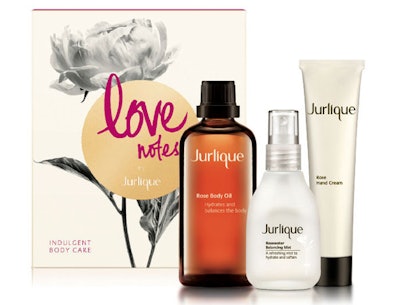 This Love Notes Indulgent Body Set features a Rosewater Balancing Mist, Rose Body Oil and Rose Hand Cream—three of Jurlique's bestselling rose-scented favorites.
http://www.jurlique.com/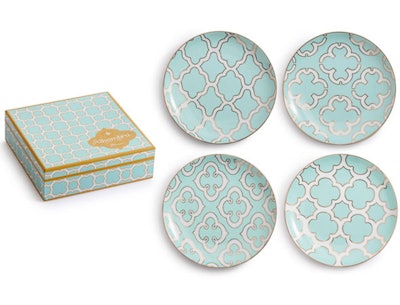 Made of fine porcelain adorned with 24 karat gold, Alhambra Plates from Rosanna Inc. feature Moorish elements and can be used throughout the house as appetizer plates, accent pieces or jewelry holders.
http://www.rosannainc.com?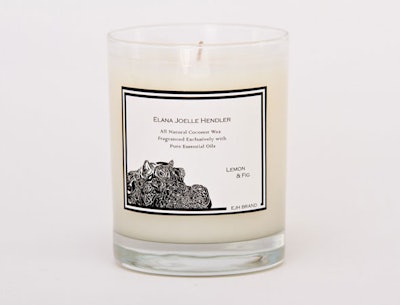 This hand-poured Lemon & Fig Candle from EJH Brand—made of all natural coconut wax and scented exclusively with pure essential oils—features a hand-drawn decoration by founder and artist Elana Joelle Hendler.
http://www.ejhbrand.com