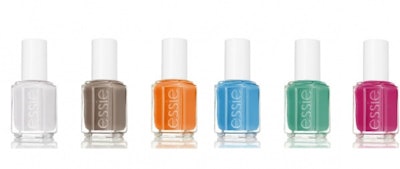 Essie's summer 2014 collection will keep your clients standing out in the crowd and looking cool in the heat. This sexy lineup of colors is geared towards fierce, unstoppable women who aren't afraid of ruffling a few feathers to achieve success! The colors, though vivid, are chic and totally wearable, whether you're buttoned down for work or being fanned in a cabana by the pool. With this amazing range, you're sure to find a shade to match any print or neutral to perfection!
The collection includes Urban Jungle, Fierce, No Fear, Rearrange, Strut Your Stuff, Ruffles & Feathers, and Haute in the Heat.
For more info visit essie.com.