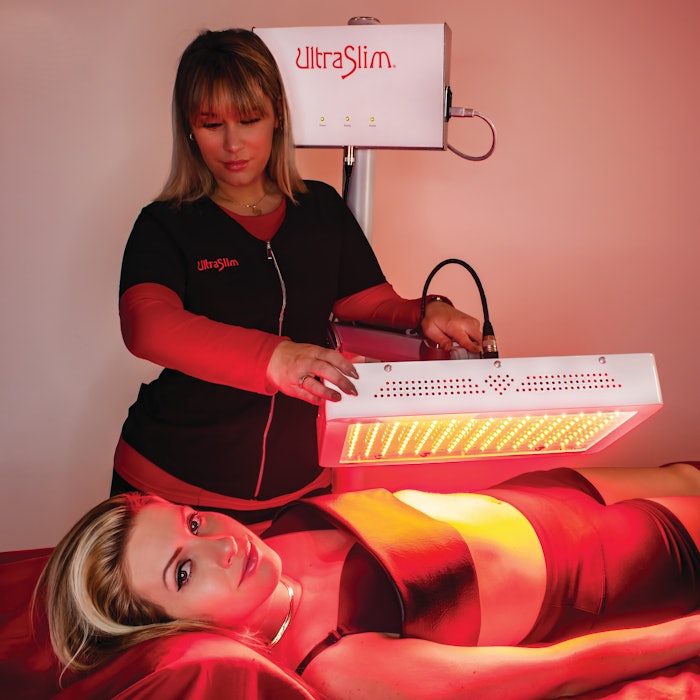 Light. Everything starts with light.
The light from the sun has given life for millions of years and will continue to provide that same light for millions more. It's where we come from, how we grow, and how we live our lives. From Ancient Egyptians, Endre Mester to NASA, humanity has always tried to harness the healing power of light. In recent years, Photobiomodulation, or Low-Level Light Therapy (LLLT), has become more frequently used to provide patients with a way of refreshing and revitalizing their way of life.
Spas worldwide are embracing this trend in wellness spa treatments: LLLT. This revolutionary technique has been proven to help with fat loss, relieve pain, reduce stress and anxiety, and improve overall skin health. "Recently, [Medical Light Therapy] has become a big forefront in aesthetic medicine," states Sheila Barbarino, MD, FAAO, FAACS, FACS. "It is a modality we have heard a lot about; it's just not something we routinely used until now." Spas are increasingly looking for the best technology to offer their clients the highest quality of LLLT, so UltraSlim is quickly becoming the number one choice.
UltraSlim has been FDA-cleared and is recognized as a safe and effective way to enjoy the benefits of Medical Light Therapy (MLT). It utilizes advanced light technology in a unique design that helps make it one of the most efficient devices on the market. It produces results quickly, with many users reporting significant improvement in as little as two weeks. Since UltraSlim works on all skin tones, anyone can use it regardless of age or ethnicity UltraSlim provides two services, Immediate noninvasive fat loss, and skin revitalization. This is why spas can easily integrate this technology into their existing services while providing clients an innovative and convenient way to achieve beautiful skin or fat loss from head to toe.
Adding UltraSlim to your spa will provide your clients with an improved experience and increase revenue for your business. This powerful machine will become increasingly sought-after as more people learn about its effectiveness. This means that spas with UltraSlim on hand will attract more customers looking for a superior red light therapy (RLT) treatment experience versus any handheld or door-hanging RLT device you can find on Amazon that only focuses on reducing pain and inflammation.
Tiffany Anderson
More Med Spas are integrating UltraSlim as it can be used in conjunction with a variety of other modalities such as IV hydration, vitamin therapy, metabolic fat loss, Botox, and fillers. It provides clients with a comprehensive approach to treating the aesthetic needs that can help them achieve the look they desire comfortably and quickly. This powerful combination of treatments helps improve skin tone and texture while reducing fat deposits. UltraSlim also works great for targeting stubborn areas of fat that are resistant to diet and exercise alone. By combining UltraSlim with these other treatments, patients will experience smoother skin, improved body contours, reduced wrinkles, diminished stretch marks, and more youthful-looking skin.
UltraSlim is worth considering for any spa focusing on quick and painless treatments. With no downtime or pain associated with this powerful modality, patients can quickly resume their day-to-day activities or move on to the next modality without worrying about soreness or healing times. Patient-focused clinics are integrating UltraSlim because it offers the best user experience of any fat loss technology. Patients are never touched, experience a gentle warmth like lying on the beach, and see results the same day, making it the preferred choice for patients who want to slim down quickly and effectively. Providers like Tiffany Andersen have taken notice of the benefits… As someone who has been in the aesthetics industry for over thirty years, Tiffany Andersen is well aware of the importance of keeping your inner health as refreshed as your outer health. She is an entrepreneur, a business owner, and an innovator, paving the way for wellness by optimizing cellular health. Andersen has many products under her line, Gracious Glow, and several MediSpas across the U.S. promoting inner and outer health.
"We focus on educating people on cellular health through therapies like UltraSlim - as well as IV hydration, vitamin therapy, ozone technology, and all the traditional spa treatments like Botox, filler, and laser services."
Ana Allen
In 2010, Ana Allen began her career as a wellness coach for a Chiropractor in Raleigh, North Carolina. Here, she discovered medical light therapy and the fantastic benefits it can bring to people's lives.
"I wanted the best since I used Trifecta in the past, but the units would break often and didn't have impressive results. I searched Photobiomodulation, and UltraSlim came up. After researching and talking to one of their reps, I decided UltraSlim was the best for my patients."
So when she opened up her practice, adding Medical Light Therapy was an easy choice. She just needed to find the right one.
By combining UltraSlim with regular exercise and smart eating habits, patients have seen amazing results, including increased fat loss, reduction in inches around their waistline, better skin tone, and firmer contours of their physique. UltraSlim has become an essential part of many wellness regimens for those looking to reach their health goals faster and more effectively than ever before. Ana Allen combined the power of reiki healing, restorative yoga, and UltraSlim technology to provide a holistic approach to sustainable fat loss.
Melissa Morgan
Melissa Morgan has been in the medical field for over 15 years and is now the owner and operator of UltraSlim of Vancouver in VVA. Having an extensive background in nutrition and a passion for helping others lead healthier lives, Melissa has created a revolutionary fat loss program based on the fundamentals of healthy eating, exercise, and UltraSlim. She was intrigued by the cutting-edge technology of UltraSlim but skeptical nonetheless until she researched it further. She could not find anything alarming about the technology, only the positives. It was FDA-cleared, had no adverse outcomes, and the majority of the providers she came across offered a 2-inch guarantee or your money back.
UltraSlim has become an integral part of her clinical practice due to its powerful results in targeting difficult areas of the body, activating lipid metabolism, and increases energy (ATP). Melissa has incorporated a metabolic system and a dietitian tailored to her patient's fat loss goals. Thanks to Melissa Morgan's dedication to healthy living and UltraSlim's amazing results, more and more people are discovering this revolutionary way of transforming their lives - one pound at a time!
"I let my clients know, if you want this kind of result, if you're looking for toning or weight loss, you'll need to use medical grade light versus just your everyday red light that you can buy on Amazon."
UltraSlim is ideal for spas who want to keep up with modern trends while offering their clients top-notch service. With its advanced medical light technology, UltraSlim provides immediate results that improve skin health from head to toe in an easy-to-use package that will help increase your spa's profit margin!
Learn How to Become a Provider of UltraSlim Today!
Disclaimer:
The above paid-for content was produced by and posted on behalf of the Sponsor. Content provided is generated solely by the Sponsor or its affiliates, and it is the Sponsor's responsi­bility for the accuracy, completeness and validity of all information included. Wellspa 360 takes steps to ensure that you will not confuse sponsored content with content produced by Wellspa 360 and governed by its editorial policy.