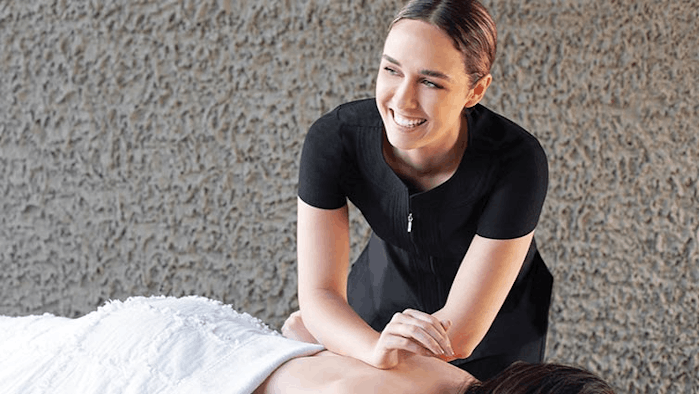 What role do uniforms play in spa and wellness spaces?
Alison Heinrich, founder and CEO of Aktiv Skin Fit Bar in Kenilworth, Illinois: Uniforms speak to your company's brand. When a guest walks into your facility and can clearly tell who is the expert, it immediately builds trust due to brand consistency.
Jeff St. Peters, LMT, senior production development manager at Universal Companies: Uniforms create a more coordinated, professional look for staff members. And, if you choose to have your logo embroidered on them, you'll promote and maintain the integrity of your spa's brand.
They also contribute to your cleanliness standards. Uniforms can withstand consistent commercial laundering for proper sanitation. They have a longer life cycle than day-to-day clothing, as they're less resistant to fading and wrinkling.
Donna Sullivan, spa manager at Spa at The Mission in San Juan Capistrano, California: Uniforms are important because they differentiate spa staff members from other employees, and they provide a look of professionalism and synchronicity, thus helping the spa look and feel more put together.
What are the most important aspects that uniforms must have?
Brigitte Rhu, director of strategic partnership at Noel Asmar: Your uniform should be made to support the way you move in your position. Clever design details, such as strategically placed pockets or side slits that enable to you do your job more effectively, are key for ensuring the functionality of your uniform.
Fabric also plays an important role. Does the fabric have stretch? Does it maintain its color throughout many washings? It must be durable so that you replace it less often, which impacts both your budget and the environment.
Sullivan: Having been in the spa industry for 18 years now, I've learned to search for uniforms that are reasonably priced, have a simple style and are made with a fabric that breathes and allows for movement. Pockets are always a plus, as well.
Heinrich: Know your clients and their expectations. For our locations, we analyze the generation that our brand speaks to the most. For example, a spa primarily looking to serve generation Z may consider custom tees made for the team, with catchy sayings and the company's logo leading these younger consumers to purchase the trending option currently on offer.
The opposite goes for generation X. This guest prefers to see uniform scrubs; they're not looking to be part of a trend, but feel that their practitioner should be focused on tried-and-true treatments. The ultimate goal of your uniform is to make the guest feel that you are the expert and your brand holds integrity to your core mission.
Continue reading our Digital Magazine for more insight on this topic...