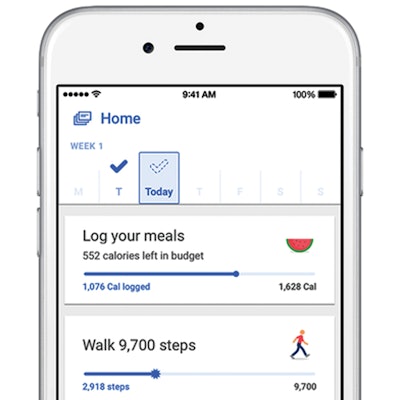 Diet app downloads are likely seeing an uptick in this post-holiday month. However, many are so similar it can be tricky to know which to use, much less recommend to a client. Here's a list of some handy free apps, and how to distinguish one from another.
Want to count calories? Try: Calorie Counter & Diet Tracker by MyFitnessPal; Lose It! "Calories in/calories out" is a preferred method for many, and the food databases in these apps free users from having to do the math. Calorie Counter has an exceptionally large database; Lose It! offers progress tracking charts and merit badges.
Eager to learn about nutrition? Try: Weight Loss Coach by Fooducate; Superfoods Beyond tracking food intake, activity and sleep, Weight Loss Coach offers nutrition courses and includes a barcode scanning feature. Superfoods provides easy-access information on weight-loss friendly foods.
RELATED: Spas Offering Practical Solutions for Reducing Stress
Focused on changing your behavior around food? Try: Noom Coach: Healthy Weight Loss; My Diet Coach; Nutrino All of these apps focus on overall eating and lifestyle habits to encourage long-lasting change and provide feedback on food choices, support and motivation. Nutrino takes users' culinary preferences and medical profiles into account.
Looking for the simplest possible app experience? Try: Diet Assistant: Weight Loss Helps track the basics—weight, meals and workouts—and allows users to customize a shopping list.
Unsure which type of diet you need? Try: Diet Point: Weight Loss; Diet Assistant: Weight Loss Diet Point covers more than 130 diet plans, then guides users through their chosen plan. Diet Assistant allows users to select meals compatible with their personal diet (vegetarian, for example).