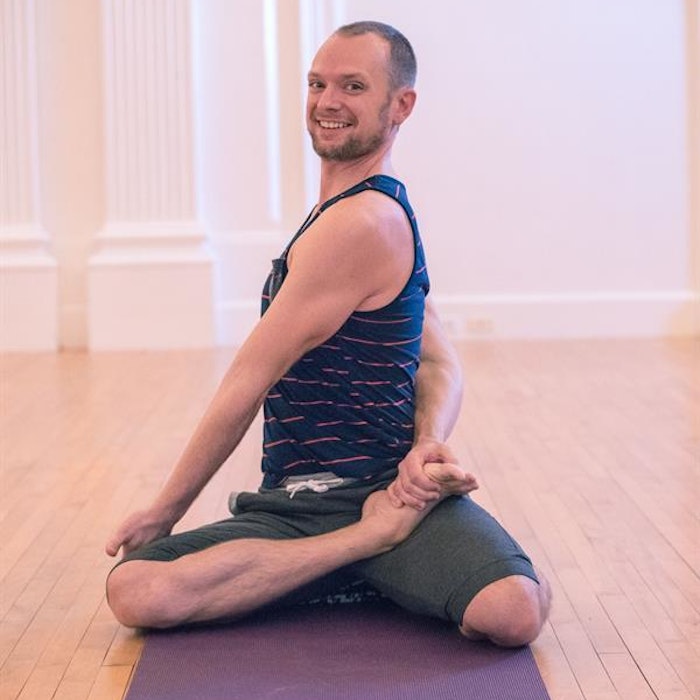 Paul Menard, director of Karuna Center for Yoga & Healing Arts in Northampton, Massachusetts, finds fulfillment in being a connector who brings people together through mindfulness and the power of yoga. Most recently, he hosted a Lone Wolf yoga retreat in rural Vermont that helped men connect to their inner spirituality through yoga, outdoor exercises, self-inquiry workshops, meditation and more. WellSpa 360 spoke to Menard about wellness trends, his love of yoga and the importance of yoga for men.
What inspires you?
I look for inspiration everywhere. For me, everything is a learning experience. There are so many incredible authors and yogis, and so many opportunities to study with masters these days. The internet and the pandemic have opened that up for all of us. We have so much access now. As a practitioner, just looking around at people on the street, in restaurants and out doing everyday things really helps me keep an eye on what people are looking for and what they need to be at home in themselves and their bodies.
What new wellness trends are you seeing?
The obvious trend to me is that students and practitioners are looking more at trauma, specifically how past trauma shows up in the body and how they work with their bodies. In the classroom, I've noticed that students require more attention in regard to opening the chest and repositioning the upper spine, usually due to hours on computers and cell phones. We are also finding ways to make ourselves more and more comfortable, which means that we have a harder time challenging ourselves and diving into discomfort.
What inspired you to curate a yoga retreat specifically for men?
Men can benefit from being in a group of other men who may be feeling or experiencing the same things based on cultural norms and pressures. For some reason, spirituality is not thought of as a masculine practice, which is why it's so necessary. During the retreat, we had the opportunity to test our comfort zones with things like optional hikes and cold-water plunges. But even those who joined the Lone Wolf retreat as a chance to get away had so much to gain from that. The time away, specifically in this setting, allowed them to reflect, rest and quiet the mind, which helps build mental elasticity.
How can men better connect to a yoga practice?
Perhaps the best way for anyone to connect to yoga is to have an open mind and be open to looking around for the right fit—the right teacher, the right studio, the right space. I am a believer that yoga is for everyone, but not every class necessarily fits.
What do you love most about yoga?
I love that yoga is so broad—there is simply so much to it! Even with the physical poses, there is plenty of subtlety and awareness that can be obtained, built and grown. And then, of course, you realize that the powers of relaxation and meditation begin to follow you into real life: into the line that you are waiting in, into traffic, into your choices and decisions. It is so many things to different people. It can be a way to stay open and strong in your body and it can grow into a life practice.