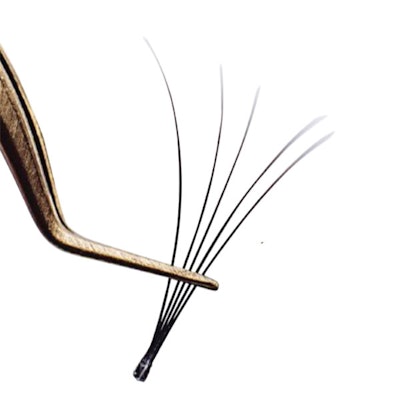 Are some lash clients too sensitive even for purified, distilled, nontoxic, formaldehyde-free, medical- grade lash extension adhesive?
Sophy Merszei, molecular biologist, cosmetic chemist and CEO/ founder of NovaLash: "Sensitivities and allergies are a very complex topic because many beauty professionals are not trained to tell the difference between the two. Studies estimate that only about 5 percent of people could have an allergy to cyanoacrylate when it comes into direct contact with the eyelid skin. And, a new study from the University of San Diego College of Medicine, Dermatology and Allergy/ Immunology, has found that abrasions to the skin play a major role in how sensitive patients' skin reacts to cyanoacrylate. Most cases of eyelid irritation—itching, swelling and redness—are not caused by adhesive (assuming the adhesive is made by a quality manufacturer like NovaLash). Adverse reactions are actually caused when lash artists opt for low-quality, inexpensive extensions, which tend to have needle-sharp, pointed, inflexible polymer bases that cause abrasions to the eyelid during sleep. High-quality extensions, such as NovaLash's NovaMinx polymer extensions, are smooth and softly polished at the base to help prevent any micro-abrasions.
Also, when dealing with a client with hypersensitive health, it's important to keep in mind that the best way to truly find out what is irritating the client is to systematically eliminate all of the variables that could cause or contribute to their sensitivity, one at a time. This includes swapping out cheap, low-quality extensions for high-quality ones (the smaller the diameter, the better for sensitive eyes); traditional lash extension adhesive for latex-free, strong-hold strip lash or cluster glue; and both paper and plastic medical tape, under-eye gel patches and under-eye stickers for each other, one at a time. (Doing so will help determine the main culprit.)"
Educational Advances
Providing the best lash services for your clients isn't just about premium product; a successful lash artist knows that great education is also key. Nikki Huebner, founder of EndureLash by Endure, understands just how important education is in order for lash artists to refine and perfect their skill set. As a result, the creator of the first-of-its-kind EndureLash Organic Cleansing Cloth has now launched the EndureLash by Endure Beauty Pro Training Academy. "Our goal is to educate lash technicians on how to develop and hone their own artistic skill set, offer them ways to be better business owners, make more money and become better artists," Huebner says. To that end, she has carefully selected a team of lash trainers from across the United States and Canada to lead different courses, from one-on-one trainings to group trainings to online courses, with a variety of lash techniques: Classic, Volume, duo (Classic and Volume) and Mega Volume extensions. In addition to lash application, students will learn about styling and business development, as well as have the opportunity to learn from experienced estheticians and celebrity makeup artists to add another layer of exclusive artistry to the students' repertoire. Courses range in price from $500 to $1,650 depending on the subject. "We want to teach lash technicians how to find their own art, love their own creations, build their lash business and change the lash game together," Huebner enthuses. For more information on classes and schedules, visit endurebeauty.com.
–by Stephanie Lavery
[Image: iStock]