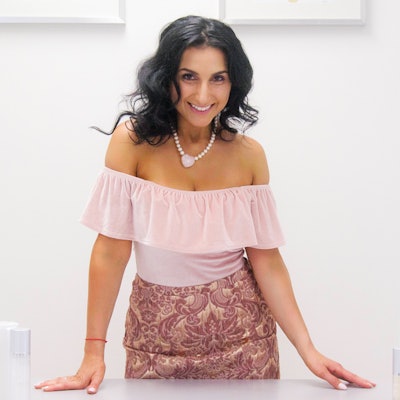 What's the most challenging part of your job?
Staying relevant. As trends change, there's always a push or pull in a certain direction, and uncertainty as to whether your brand will continue to generate interest. I'm always striving to improve our products, customer experience and education—there's never a moment of stagnation.
What do you enjoy most about your job?
Exhibiting at trade shows and teaching classes. Whenever I see my classroom fill up, I perform at my best and my most relaxed. It also brings me a lot of joy when customers come to our booth and tell me how much they like our amazing service. I'm extremely proud of my team—they are what makes SAIAN successful.
RELATED: Professionals Choice Awards 2018 – Skin & Face Winners
Your mom (and SAIAN cofounder) Margarita passed away in 2015. What was the most important lesson she taught you?
I read in the Tao Te Ching [an ancient Chinese text attributed to philosopher Laozi] that 'the true master makes masters,' and that was my mother's strength. Anyone who has ever taken a class with Margarita will tell you—she had a way of making you feel special, but most importantly, she
gave you all of her knowledge. I was a sponge that absorbed all of my mom's mannerisms—her way of talking, her way of caring and her way of making everybody feel like they are somebody.
Who inspires you?
Our customers. We're not just a skincare company, we're a lifestyle brand dedicated to bringing professionals the best in skin care, supplements, equipment, supplies and education. Every day I'm inspired by female entrepreneurs who continue to make their mark in the mainly male- dominated world of commerce. It gives me more energy to keep creating when I see other women succeeding.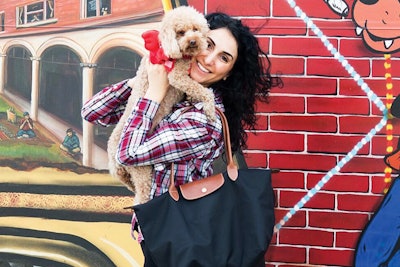 How do you manage to find a work-life balance?
The most comfortable pattern for me is my routine: work, gym, Mandarin lessons, yoga, hikes, salsa dancing, home-cooked meals and plenty of time with my pets. I read a lot, and am a big fan of psychology and philosophy. After 11 years of owning a business, I'm now very comfortable with enjoying the process and seeing the growth, instead of just pushing, pushing and pushing 24/7 like my mom and I did in the beginning.
RELATED: Spa Pros Weigh in on the Benefits of Enzymes
You travel a lot for work and pleasure. Where are you off to this year?
My next big international trip is in August— I'm attending my friend's wedding in Turkey, and from there I'll go to Russia and Armenia. I've never been to Armenia before and I'm excited to find out more about my grandparents' homeland.
If you weren't in this industry what would you be doing?
I'd be either a personal trainer, or a martial-arts instructor. I love all forms of martial arts! Most likely would move to China and study Mandarin and martial arts intensively. I just love being in motion- the feeling of residing in a strong body is liberating.
Personal mantra:
Be yourself and happiness will find you.
A Biggest fear:
Being misunderstood.
A Guilty pleasure:
Movie theater popcorn. Even the smell makes me drool!
Favorite food:
It's a toss up between avocado toast and trail mix.
Favorite city:
Los Angeles
A Scariest thing you've ever done:
Gathering the strength to continue my life after my mom and grandmother passed away 10 months apart.
A Can't leave the house without:
My gym bag and salsa shoes. My trunk is literally a collection of salsa shoes and sneakers!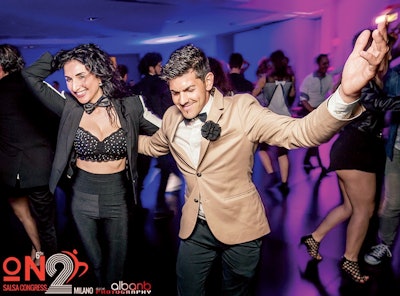 [Images: Top – courtesy of Abraham Hernandez Photography, middle – courtesy of Dasha Saian, bottom – courtesy of Albanb Photography]