Based in Vancouver since 1998, the brand is now sold in more than 50 countries around the world, and has launched successful initiatives such as Forests for the Future and the Éminence Kids Foundation.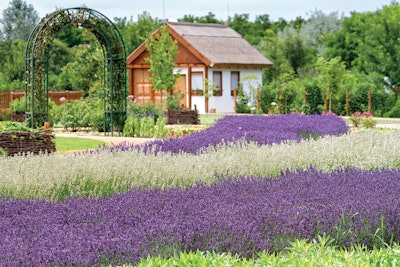 "Éminence is proud to be a Certified B Corporation, the leaders of the global movement using the power of business to solve social and environmental problems, held to rigorous standards of performance, accountability and transparency for our employees, our community and our customers," says Éminence president Boldijarre Koronczay. Below, he discusses some key points in the company's story as it reaches its 60-year milestone.
People remain loyal to brands that provide extraordinary service, consistent innovation and products that provide real results. Being honored as a Favorite Organic Line DAYSPA's Professionals Choice Awards for two years in a row is both inspiring and humbling. This award truly represents the efforts of Éminence's incredible team. I'm extraordinarily proud of their hard work and willingness to go above and beyond for our spa partners and customers.
At Éminence, we believe that every business has a responsibility to protect and heal the Earth. After all, we want future generations to enjoy our planet just
as much as those before them. For us, the concept of Earth Month isn't 'just a month'—it's a conscious way of living all year round. But celebrating in April is a good way to spread awareness and increase widespread commitment from the public about being green.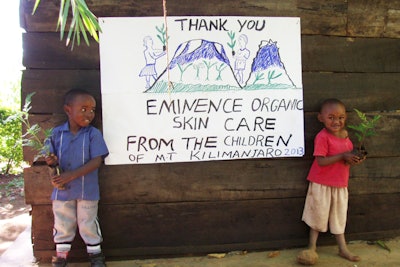 Indeed, Earth Month is the perfect opportunity to educate about how small, active steps can be taken by spas and vendors. Éminence has dozens of green initiatives that are easy to replicate. Our packaging is recyclable and is made from post-consumer recycled material, printed on Forest Sustainability Council- Certified paper with vegetable inks. All our packing chips are biodegradable. If you don't believe me, try it: Drop a few of our packing peanuts into a glass of water, stir and watch them dissipate!
At our Vancouver offices, we use energy efficient appliances and recycle paper, plastic, glass, cans and bottles; we even compost. We also have beautiful skylights that let in the natural light. In addition, we have set up a public transit credit for our local teams; in fact, up to 92 percent of our employees walk, bike or opt for public transportation to commute to work. We provide reusable bags to tradeshow attendees, spa partners and our employees. These iconic totes are made of jute, one of nature's most sustainable fibers.
If every business can adopt the green practices they learn about during Earth Month, our collective mission to take care of our planet makes progress. Ultimately, we hope everyone shares the same long-term goal to leave the world a better place than we found it.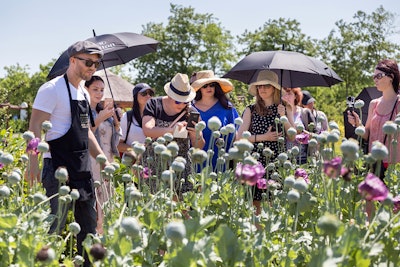 The latest advances in technology allow us to capture the potency of fruits, herbs and vegetables in new ways. Because we incorporate the most innovative methods of harnessing the power of natural, organic and Biodynamic ingredients, the results provided by our skincare products are very much real, proven with studies, and some might say life changing. And we're now able to source fresh ingredients globally. My grandmother would never have imagined a skincare product featuring mangosteen—she likely didn't even know it existed! Thanks to a truly global network of resources, this 'queen of fruits' is our latest launch's hero ingredient.
Our largest environmental initiative, by far, is our Forests Ten for the Future program, through which a tree is planted for every Éminence retail product sold. We're proud to be the first and only skincare company in the world to have planted 10 million trees.
This impact is important to quantify as global warming, extreme weather and natural disasters continue. According to the Growing Air Foundation, 10 million full-grown trees yield 2.6 trillion pounds of oxygen per year, while absorbing carbon dioxide from the environment. They also lower air temperature by evaporating water, an important consideration to oset climate change. And tree roots stabilize soil, prevent erosion and protect the earth.
We consider ourselves skincare experts, not tree-planting experts, so in order to achieve this enormous feat we partner with the renowned nonprofit Trees for the Future to identify 'tree needs' in over 18 countries, such as Senegal, Uganda, Ghana and Tanzania. Their ground teams source, plant and train farmers to produce sustainable forests.
These forests have generated food stability for over 10,000 people, as well as provided a sustainable source of income for over 2,000 families. These people no longer have to skip meals for days at a time, or travel hundreds of miles for work. They now have food security, income to last for generations and the education to farm successfully for years.
While planting 10 million trees has a global impact, it's important to remember that this initiative isn't about 'just planting trees'—it's about changing lives.
I think that as more and more companies understand Biodynamic ingredients, they will have the biggest impact on the beauty industry. Biodynamic ingredients are grown in harmony with the seasons and the alignment of the earth, the moon and the stars, and ours are certified by Demeter International—part of Demeter, the official Biodynamic certifying body. It took about 15 years for consumers to understand and demand organic products; believe me, Biodynamic is the next great wave!
Since its inception in Hungary in 1958, Éminence has used sustainable farming and green practices to create natural, organic and Biodynamic products that are free of parabens, animal by-products, propylene glycol, sodium lauryl sulfates, harmful colorants and fragrances, mineral oils, petroleum and other harsh chemicals.