What's the best career advice you've ever received?
I was once told, 'It's critical to have the right people on the bus, in the right seats, and to ensure mutual clarity and alignment to key objectives.' It resonated with me so much I've incorporated it into my management style.
Is there a practice that helps get you through a tough day?
One that works for me and a mindset I encourage others to embrace is, 'Stay centered no matter what challenges arise, focus on resolution and move forward.'
RELATED: One on One With Lydia Sarfati, Founder and CEO, Repêchage
If you could scratch one thing off your to-do list, what would it be?
My philosophy is that if it's important but not urgent, let's look at a later date to review the action plan. If it's not urgent or important, it shouldn't even be on the list!
What's your personal mantra?
The gifts are rationed. In other words, play to your strengths. No one is great at everything, and that's OK. The power comes in recognizing and nurturing those gifts and celebrating the ways in which we complement one another.
Who would you most like to meet?
This is a tough one. There are so many incredible, inspiring and talented people to consider. One thing that many people don't know about me is that I began my marketing career many moons ago in the music industry. So I'm going to go with a living pop culture icon: Debbie Harry!
What makes your company unique?
We deliver personalized skin care and skin-nourishing mineral makeup—a full range of skin and beauty solutions. We recognize makeup as an extension of skin care and are passionate about delivering products that make clients look and feel their authentic best. Also, our formulas are developed
with active ingredients and nourishing minerals that ensure a healthy, radiant complexion: What's not in them is as important as what is.
RELATED: One on One With François Requier, General Manager, Silhouet-Tone
What's in the pipeline for Glo?
We're excited to introduce our branding evolution and line integration to our professional community this month. We've redesigned our packaging, streamlined and refreshed our product mix, and have a new and fully integrated story to share. Formerly separate product lines Glo Minerals and Glo Therapeutics are now Glo Skin Beauty – The Full Spectrum of Skincare and Makeup.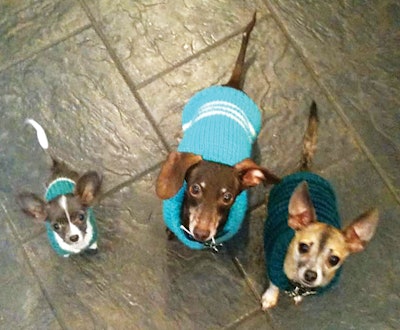 Tell us something else that most people don't know about you.
I am truly, madly, deeply in love… with my furry family. Two chihuahuas—Pepper and Wasabi—and a dachshund, Dutch. They have my heart.
What's on your bucket list?
My husband and I would love to go on a leisurely adventure through the Pacific Northwest in a luxury RV. We dream of enjoying an exquisite backdrop during a time when the weather would be calm, clear and welcoming!
What's Glo's elevator pitch?
Glo Skin Beauty delivers the full spectrum of skin care and makeup. We believe your complete skincare regimen starts with your cleanser and ends with your lipstick.
Favorite food?
It's a three-way tie between Chinese, Thai and Japanese!
Favorite classic movie?
I'm a serious film junkie so this is hard for me to answer. Terms of Endearment is a brilliant film on the long list of amazing ones I enjoy.
A Can't leave the house without?
Lipstick!