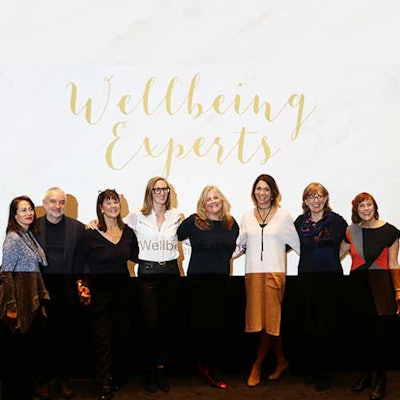 Aromatherapy Associates recently announced its panel of
Wellbeing Experts
. Designed to continue the legacy of the luxury skincare brand's founders Sue Beechey and the late Geraldine Howard, the six individuals were chosen for their expertise in "enhancing and nurturing life balance, supporting self-belief and encouraging healthy living." Each expert is aligned to a signature Aromatherapy Associates collection connected to their individual beliefs, from Revive to Inner Strength, and will work with the company over the coming year to spread the message about well-being to consumers.
DAYSPA recently caught up with Aromatherapy Associates CEO Tracey Woodward to learn more about the experts and their launch videos, as well as the company's future plans.
Why did Aromatherapy Associates create these videos and what do you want viewers to take away from them?
We know that the products Geraldine and Sue created change how we feel for six to eight hours. We want as many people as possible to use them, but we also want them to think differently, whether it's for one year or one hour. People can watch the videos and take from them what they want. Consider, for example, our Revive oil. You wake up tired and you use it. Yes, it'll work, but it may get you thinking about what you ate the night before or that morning, and what you can do to feel more energized. We wanted to circulate that information without being obsessive or egotistical. The videos—and our experts—are relatable. When people don't know about fitness, health and well-being it can be intimidating, so we're breaking down those concepts into bitesized chunks to make them more manageable.
RELATED: Cupping to Relieve Back and Neck Pain
What are the experts' plans over the coming year?
We want them to engage in all of our arenas—spa, retail, digital. They'll be doing workshops, lunch-and-learns and consultations, and involving everyone on site. For example, one expert is doing an event in Ireland soon at which she'll also be using the products on all the staff. If we don't help the people who help clients, from the therapists to the concierge to the receptionist, we're just going around in one big circle. Everyone is under pressure to deliver to guests who are more and more stressed, so we wanted to create balance throughout and take our experts into all arenas to educate them. Because our brand has such integrity and incredible core values, we have to put something out there that has purpose and meaning. We have to walk the talk and practice what we preach. We're all about proof and what the products can do, as was Geraldine. If we want to teach people about well-being we have to give them excellent, truthful information, and that's why we brought in experts in to guide everyone through this process.
How do you keep your own stress levels manageable?
I've used our products for years, and I always have a set of the mini oils in my travel bag. In general, I look after myself. If you can't look after yourself, you can't look after anyone else—you become dysfunctional. It's like what they say when you're on a plane: In the event of an emergency, always put the mask over your face first before helping others. More specifically, I walk my dog, I try to have supper twice a week with my husband, and we always have Sunday dinner together. It's important to have a partner or a pet, to help you laugh.
What's the future of wellness and well-being?
They're both going to be essential to 21st-century living. We have to show people what those words actually mean, though. Our industry is guilty of paying lip service to these ideas by using them as marketing terms. Geraldine was so serious about making people feel better and I have to stick to those core brand values in a sincere, honest and truthful way. We have a duty to Geraldine. We're not going off the spiel. We're going to remind people to take a mindful moment, and show them how they should treat themselves: You're the most important person in the world—it does start with you. We're communicating our message to the people and capturing their attention using experts who truly understand what well-being really means.
RELATED: Global Wellness Institute & World Travel Market Announce Partnership
What are your go-to beauty and skincare tools?
I use our oils, in particular Revive and Relax, and I love our Inner Strength Soothing Cleansing Balm. I believe in brushing too: For years I've used a wooden-handled facial brush, day and night, before applying a final layer of moisturizer or facial oil. I've body brushed for 20 years—it stimulates the circulation, helps the lymphatic system and gets everything moving. It's good for people prone to inflammation. Before a big event, I brush my hands and feet to get me revved up. When I don't do it I notice how tired I feel. My top tip: If you're going out in the evening, get some Revive Evening on the soles of your feet and hands and you'll feel them come to life.
What's one easy thing we can all do to de-stress?
Do whatever you need or want to do—laugh, cry, reminisce. Get outside and go for a walk. Put some earphones in and play your favorite song. Take yourself on a sensory journey. If you're in the countryside try immersing yourself in nature. Step away from all of your technology, get outside and stand under a tree. One trick of mine is to get a mirror and go for a walk. Find a clear path and walk looking into the mirror. When you get to a clear opening you feel like you're within the clouds, like you're not walking on the ground. It's so empowering—for a second you're like Superman. It's so uplifting, and a great activity to do with kids!
Can you share any future Aromatherapy Associates plans with us?
The Wellbeing Experts are going to get bigger and better. We're working with the experts in the U.K., and we're already in conversation with others stateside and in Asia. We also have some great products in the pipeline, such as mini face oils, scented kindfulness cards—random acts of kindness you can do and pass along—we're going to see how far they can go around the world.—Lesley McCave
Meet the Experts—read the bios from Aromatherapy Associates below:
Relax – Julie Whitehead
Julie is passionate about helping people live the best life they can, her teachings are based on the health benefits of yoga and laughter. Laughter is known to boost our immune system and relax our whole body. Julie is the spokesperson for the Relax Collection, as relaxation is a key element to achieving total clarity and getting the most out of our mind and bodies.
De Stress – Nicola Addison
Nicola, who represents the De-Stress Collection, understands the power of cool down for both mind and body. Nicola has a wealth of experience working in high pressure environments and will help to drive the collaboration between exercise and wellness to enhance our lives.
Revive – Yvonne Wake
Yvonne is our spokesperson for our Revive Collection. As a health nutritionist and well-being and lifestyle coach, she is the voice we need to tell us to take better care of ourselves. Yvonne teaches us to be physically uplifted from the inside out. She is aligned with the Revive Collection which, like our mindful food choices, helps to awaken and give an instant energy boost.
Support – Janet Tarasofsky
Janet is an award-winning public speaker and communication strategist and her teachings focus on key elements such as how speaking can enhance your confidence. Janet's techniques help to encourage people to communicate effectively. Janet is our spokesperson for the Support Collection, which helps to comfort the body and clear our minds during challenging times.
Inner Strength – Jonathan Ward & Karuna
Karuna's methodology teaches realization of human potential and the ability to actively intend, and create our own experiences, drawn from our Inner Strength to seek out and implement those changes. Jonathan will be sitting alongside Karuna, as a heart-centered somatic coach, together they make the perfect Inner Strength team. Jonathan guides his students into learning to lead with their heart in order to make more fulfilling life choices. Karuna and Jonathan, supported by Inner Strength, will help to motivate and create transformation.