The green personal care retailer has unveiled a chic Santa Monica outpost.
It's no secret that eco beauty is enjoying a moment—make that an explosion. Nontoxic brands have been around for decades, but in the last couple of years the field has officially moved from the margins to the mainstream. Until recently, however, it has been hard to find a number of high-quality eco brands in one place. Enter the Detox Market, billed as a "one-stop shop for people looking to remove toxicity from their beauty regimens and beyond."
The mini chain just launched its second Los Angeles location on trendy Montana Avenue in Santa Monica. Boasting a decidedly beachy vibe, the inviting pale wood and white space stocks 100 global brands, segmented into sections such as Skin, Hair and Home. These aren't your typical lines. Yes, a few names will be familiar to anyone keeping up with the booming trend—Tata Harper and Ilia, to name two—but there are dozens of discoveries to be made too. Case in point: these biodegradable (and functional!) facial wipes by Kaia Naturals. All are sustainably sourced, cruelty free and, wherever possible, vegan. Many offer unique backstories, not least Odacité, cofounded by Valérie Grandury and Detox Market founder Romain Gaillard following the former's breast cancer diagnosis.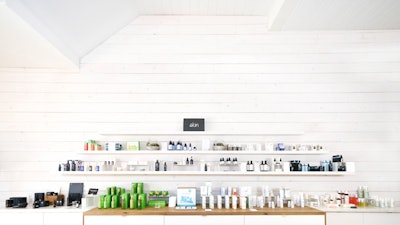 Describing the latest store, Gaillard says, "We want it to reflect Santa Monica's warm, California aesthetic in look and feel, so we designed it to resemble a contemporary beach house where customers feel comfortable spending time discovering the latest that high-end clean beauty has to offer, whether it is high performing natural skin care and makeup or a detox cleanse."
PHOTOS: Valentine's Day Products
The space may look and feel laid-back, but it has a serious core mission: education. When DAYSPA stopped by, detox ambassador Ashley told us, "We want people to learn something when they come in. We ask customers questions, and take a holistic approach in our advice to them. It may be that they just need to drink more water! We want them to have an incredible experience while they're here."
After our visit, we caught up with Gaillard to learn more about his green beauty mission.
DAYSPA: Tell us about the evolution of the Detox Market.
Gaillard: When Valerie and I founded Odacité, people would constantly ask us questions about green products. So, we ended up launching the Detox Market in 2010. For years it was a fun side project, but then a few years ago we separated the companies and I decided to focus all my energy into it, to try to educate as many people as possible.
Our goal was to create public stores—to educate the press and influencers about toxicity in personal care—but we wanted to do it in a positive, fun way. When we did the first popup seven years ago, there were no concepts around natural beauty that I felt were relevant. So we chose a bungalow on Abbot Kinney Boulevard in Venice. It was supposed to be there for two months but we ended up staying a year. Everyone loved it! Then we did more popups in San Francisco, West Hollywood, Toronto, Calgary, Vancouver and other cities. We ended up settling in WeHo, and then Toronto, where we opened a second store. We also launched a partnership with Café Gratitude last year so now we curate their Beauty Corner retail sections.
Why should people use green beauty products?
I think the real question is, 'Why shouldn't they?' Before, one of the biggest problems in green beauty was that the entire message was focused on the negative: 'You shouldn't use X-brand [conventional] product because it's going to kill you..' As a consumer, I don't react positively to negative messages like that. So then the selling point for clean lines became 'These aren't amazing, but at least you won't get cancer from them.'
But now, the vast majority of green products we use are amazing in their own right—they perform very well. The aesthetics, the packaging, the scent, the story—they're all fantastic. Many of the new indie brands entering the market are natural. Even if people don't really care about that aspect, I encourage them to come in and check them out, and they'll see how good they are. It's just like food—I want really good, creative food, but I prefer if it's organic. It's the same with beauty products. One of my favorite things is when people try a product and they love it, and come back and say, 'I didn't know how good it was!' It's a big validation. I really enjoy when the choice isn't necessarily motivated by the eco aspect. Nowadays, people don't need to choose between purity and efficacy. That shows a big change in the market.
RELATED: Treat Your Loved One with a Valentine's Day Spa Package
You must get pitched products all the time. What is your selection criteria?
Yes, we get pitched a lot. Every day there's something new. I'm surprised there are so many brands out there! Usually our first filter is to check the ingredients—we're looking for the ones we do want as well as the ones we don't—so that's a yes or no very quickly. If it's a yes, we consider it more closely. Even if the ingredients are good, the formulation may still be weak. So we then ask the company to send us ingredients to try. Every other Thursday we get together, and someone on the team explains the brand's story. Then we go away and try them; sometimes we send them to influencers too. Other considerations are the packaging and, of course, the efficacy. It has to work—that's key. The major problem of natural beauty—the 'old' natural beauty—was that it didn't work, so it had a bad reputation. So it's very important that we carry products that deliver the results they say they will.
A few weeks later we get together again, gather all the feedback and decide collectively if we're going to go with the brand. In addition, I try to have a coffee with the founder or, if they're not local, a Skype chat. It'll just be a casual conversation about their story and how they ended up doing what they're doing. That's the final yes or no. It's fairly easy to tell which ones are 'real.' There are so many options out there that we try not to work with people we're not 100% behind.
How else do you find brands?
I scout them out when I'm out of town. If I'm in a big city I go to some of the influential stores. I can always find great products in spas too, but they don't always travel well! Another interesting facet is the trade shows, in particular Indie Beauty Expo. I always find two or three brands that I hadn't heard about that turn out to be very important. For such a new show it's really well organized—they really have their stuff together.
Are there any more stores to come?
Yes, we're opening two more. But that's all I can say!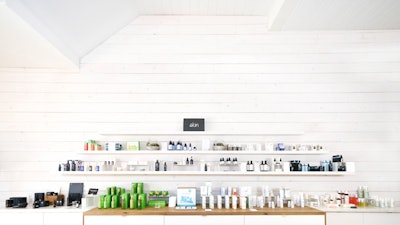 The Detox Market is at 1231 Montana Avenue, Santa Monica, CA 90403.
–by Lesley McCave