Q&A With Boldijarre Koronczay, president, Éminence Organic Skin Care.
What advice would you give to your younger, just-starting out self?
That I should have an answer to interview questions like 'What advice would you give to your younger, just-starting-out self?' when I'm older! [Laughs]. I'd say, 'Spend time with your family and loved ones while you can.' Time is the biggest gift we have; we can't buy it back. And always work as if you're trying to make someone—most of all, yourself—proud at the end of each day.
What's the biggest mistake you see skincare clients making?
Not using Éminence! Not using natural or organic skin care in general.
What's your favorite part of the day?
The evening—coming home after a long, productive day and seeing the beautiful lights of Vancouver as the sun sets. It's stunning. The image below is what it looks like at 10 p.m. in summer—we're close to Alaska so it's still light outside.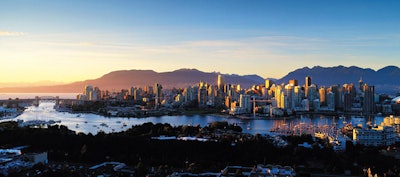 Who is your mentor?
My mom. She has taught me so much, such as 'Never go to bed angry—stay up and plan your revenge.' Just kidding. However, she did teach me to never go to someone's house without a gift. Even if you don't buy a physical thing, you should compliment them, make their day somehow.
What's your earliest memory?
Being really afraid as a three-year-old to have a bone marrow sample taken from my chest before starting treatment for leukemia. It was the most frightening and horrifying feeling ever, and that's why I remember it. I still have the scar.
Which social causes do you support?
Mandatory community service. Only joking! The main one is the Éminence Kids Foundation—we just launched its new website, eminencekidsfoundation.org. It supplies organic food to children undergoing chemotherapy. We now have our first U.S. location, in Austin, Texas. I'm very proud of it. My goal is to change awareness of nutrition to the extent that we'll look back at how we feed people French fries while in the hospital in the same way that we look back now at people smoking in bars. If I can achieve that when my time is up, I'll be able to smile looking down.
Do you have a favorite food?
Yes—anything with a lot of preservatives in it: At my age, I can use all the preservation I can get, LOL! Actually, it's my mom's chicken paprikash, which I eat every time I go home to Hungary. I go back once a year, minimum. Now my parents are getting older I try to see them more often. It's a long trip for them to come to Canada now. So at least once a year I go on vacation with them and I take them to places we couldn't afford to visit when we were kids. I try to treat them. We go all over—Italy, Greece, Spain and sometimes other parts of Hungary.
Which song sums you up?
Frank Sinatra's 'That's Life.' The lyrics speak to me—'That's life, that's life/That's what people say/You're riding high in April/Shot down in May… Back on top in June.' It relates to all the things that have happened to me—all the ups and downs and failures that have led me to success. You dust yourself off and get back in the game. If we're talking about a song for a funeral, though, it would be Sinatra's 'My Way.'
What are your favorite films?
Titanic. When it came out I had the same haircut as Leonardo DiCaprio, and for a laugh I would wear the same outfit as him and memorize lines from the movie to impersonate him. He'd definitely be someone I'd love to meet too. He's fascinating and into green practices and the fight against climate change. Many of our values align. He's a brilliant actor too. I also love comedies, especially You Don't Mess With the Zohan. It's about the struggles of an immigrant coming to America—practically a documentary of my life!
Who would you most like to meet?
Will Ferrell. He's a comedy genius.
Tell us about the company's plans for the future.
We're expanding rapidly internationally, and launching new products in March!
What's the biggest difference between you and your brother Attila?
Five years (he's older than me)… and he has much more hair! I've always been the family joker and the clown. He's a civil engineer by trade, therefore more analytically minded, whereas I'm an in-the-moment, improviser type. Growing up, he was always really into sports—he won a lot of kayak championships in Hungary, and I was into ballroom dancing. He was the macho man and I was more creative. We're still extremely close—we work together every day and live near each other. He's my best friend. In my 41 years we've never really had a serious argument!
If you could change one thing about yourself, what would it be?
More hair! Really, it would be to relax. I wish I could relax on command but I'm like the Energizer Bunny! It's very seldom I don't work, although I don't feel like I'm working as I really enjoy what I do. Even when I have down time I usually try to watch comedies as inspiration for my classes—that's one of the reason I watch them. I'm known as the clown of the industry—my thing is 'edutainment,' and it's what I pride myself on. People have the expectation that when they come to my class it has to be funny. That's awesome but it puts pressure on me—I can't just show up and give an 'okay' class—it has to be something out of the ordinary. I really have to up my ante each year, from props to jokes to visual effects to guest presenters. For my 2,000th show, in Las Vegas, I hired the whole cast of Thunder From Down Under, but what I didn't tell the audience was that I'd also invited the spoof Canadian version called the Comic Strippers—aka the Thunder from the Tundra! They showed up at the very end of the presentation. Thousands of people were there!
The truth is, I don't really get down—because of my history of having leukemia I feel grateful for everything. If I'm having a bad day, I think of how much worse it could be. Now that we're doing the kids' initiative too, I visit hospitals often. It makes you realize how fortunate you are every day, when you're healthy and alive. It puts things in perspective.
–Lesley McCave