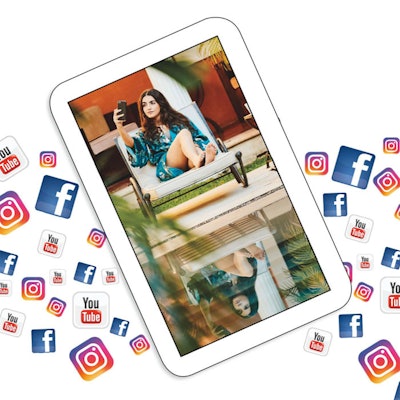 How to find and work with beauty and wellness influencers.
When you think of influencers, you might assume they're all the Kardashians and Jenners of the internet who get paid six figures to post about a product, service or brand—or you might even cringe at the thought of how such marketing methods can go horribly wrong, as in the case of the infamous Fyre Festival. But beyond the social media super-celebs, there's an ever-growing world of "micro-influencers"— tastemakers who may not be household names and don't have millions of followers, but who can be extremely effective at promoting services without commanding a hefty fee. So—as selling oneself on social media becomes increasingly important for all brands—it's truly time to rethink old-school marketing, dive into this brave new world and discover just how big it can be for your business.
Where to Find Them
In the beauty space, the average influencer (defined simply as a person who can affect the purchase decisions of others through online posts, blogs and/
or vlogs) has 105,300 followers, according to research from Influencer Marketing Hub. You could look for the most prominent ones in your area, but if they're already on a Top 10 list, they'll probably cost a pretty penny. As Forbes' inaugural Top Influencers list of 2017 reported, those with the most followers—7 million or more—can command $300,000 for a video partnership on YouTube, $187,000 on Facebook and $150,000 on Instagram. Instead, your goal should be to find up-and-coming influencers.
If you don't have the budget for a paid media database service, you can simply do some online investigating. "Search hashtags and locations," says Darlene Fiske, cofounder of spa and wellness firm S'Well Public Relations, with offices in Los Angeles, New York City and Austin, Texas. "Once you find a few influencers, you can look at who they follow and who engages with them, and source some great new finds."
To connect with the 12 to 15 influencers with whom she currently works, Bella Reina Spa owner Nancy Reagan looked in her own backyard in Delray Beach, Florida: "We've been in business since 2009 and our goal was to bring in a younger clientele. I searched for women in that demo whose look and vibe were in line with ours, and who were liking our posts." She met others by networking at local events that invited bloggers and vloggers. "I chatted them up and forged relationships organically," says Reagan.
RELATED: Promoting Your Spa on Social Media and Beyond
Larry Oskin, president of Fairfax, Virginia-based Marketing Solutions, recommends seeking out a variety of individuals and industry leaders in different spaces, including social media, local TV and print. "It doesn't matter if they're a new blogger with 100 or 500 followers, or a fashion reporter," he explains. "By building your relationship, you'll become a prime and important resource for them and vice-versa."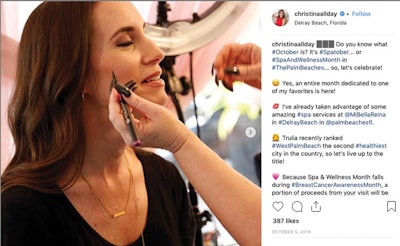 What to Look For
Reagan says the size of her influencers' audiences wasn't her primary focus, although the ones with whom she works typically have anywhere from 6,000 to 15,000 followers. "It's the engagement that matters," she notes, explaining that if someone has a million followers but only 1 percent of them like, comment or repost, that's a sign that those people are paid followers. "You're better off with someone who has 1,000 followers with 15 percent engaging."
Indeed, research from influencer marketing company Markerly suggests that accounts with fewer than 1,000 followers typically receive likes 8 percent of the time, while users with more than 10 million followers only receive likes 1.6 percent of the time. "Micro-influencers have a laser-focused, loyal and engaged audience," says Kim Marshall, cofounder of S'Well Public Relations, who places the ideal number at anywhere from 10,000 to 50,000, depending upon the region. "In the end, that's the sweet spot."
RELATED: 4 Software Programs That Will Help You Streamline Your Spa Business
Matching vibes is also key. "We wanted influencers who are like our clients and can present our look, with a visually captivating page and something interesting to say," notes Kile Law, founder and president of Blue Water Spa in Raleigh, North Carolina. "The best influencer is someone who would be your client whether or not they have a business relationship with you."
To that end, Marshall suggests evaluating the quality of their content based on affirmative answers to the following questions: Do they regularly post
about health and wellness, and about their own face and body? Do they look professional? Do they seem like a match for your brand? Have they tagged/geotagged/ mentioned brands with whom they've partnered in the past?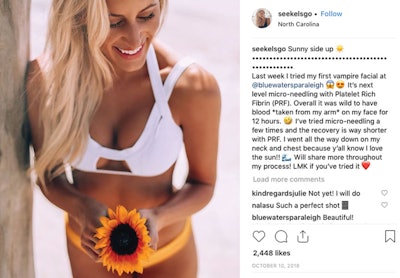 How it Works
Companies that can afford macro-influencers might have written agreements involving high payments for specified number of social and/or blog posts. But deals with micro-influencers tend to be less formal. "We don't pay them–people see through paid advertising anyway," says Reagan. Instead, Bella Reina throws parties for influencers that include food, drinks and mini treatments, which leads to posts about the experience. "If we get 200 people engaging on Instagram with one of their photos, it's a success," says Reagan. The influencers are then asked back for a full treatment in exchange for a blog post about the service and the spa.
RELATED: Apps That Can Help Enhance the Client Experience and Boost Business
Blue Water Spa has its influencers mingle with clients at events as brand ambassadors. "One influencer attended our annual anniversary party and charity event, and spoke about her experiences with our services," says Law. "She's a combination of smart, elegant, conversational and loyal. She's a real person, and she conveys that well through social media."
Fiske offers up another common arrangement: "A typical deal might be two services, including gratuity, in exchange for two permanent Instagram posts and stories, and a blog post. Always require that they tag the location and link back to your website and social media. Another way to ensure a return on investment (ROI) is to ask for a library of images that you can use in your own social media outreach following their visit. Most are willing to do this if you give them credit when you post their photos."
Remember, bloggers need content as much as your spa needs promotion. "Try to build a long-term, win-win relationship. Be ready to share educational information demonstrating your expertise on services and products, along with beautiful photographs and influential opinions," says Oskin. If all goes as planned, the proof will be in the profits—and that's certainly been the case for Bella Reina. "Our annual cost for two influencer parties and free treatments is about $10,000," notes Reagan. "It's hard to quantify the ROI, but we achieved our goal of bringing in a younger crowd, and our revenue, retail sales and bookings have all gone up."
– by Carrie Borzillo
[Images: Getty Images; Instagram]
This story first appeared in the April issue of Dayspa magazine. To receive the magazine, click here to subscribe.